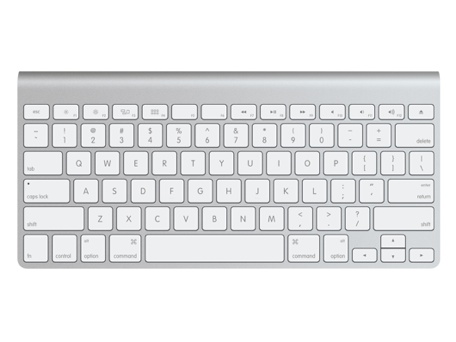 The iPad is such a versatile piece of kit and its portability has been one of the reasons for its soaring popularity, the onscreen keyboard is probably not the best for those who like to use their device for work or if you are doing lots of typing, so adding a keyboard will make it much faster and more comfortable to work with.
There are a great number of keyboards that are specifically designed to be used with the iPad, although the iPad will actually support almost any Bluetooth keyboard, there is also a huge amount of choice out there, from wired to Wi-Fi and stand alone to shell. We've taken a look at many of the keyboards available and have listed a variety of those on the market for you.
We will begin with stand alone iPad keyboards, these are available wired or with Bluetooth. The size of the stand alone is more like a desktop keyboard, making it very suitable for those who touch type or tend to always work at a desk. Of course if you don't always work at your desk, the portability of your iPad, perhaps the very reason for buying it in the first place, is compromised with the stand alone keyboard. You will need to carry it separately from your iPad and you will need to buy either an iPad stand or an iPad case with a built in stand.
Stand Alone Wireless iPad Keyboards
Apple Wireless iPad Keyboard $69
Compact, lightweight adonized aluminum, very good reviews
Bluetooth technology, low profile with crisp responsive keys. Function keys for access to screen brightness, volume, eject, play/pause, mission control and Launchpad. Intelligent power management system automatically powers down when keyboard not in use to conserve battery life, re-starts when typing re-commences
2.8 x 1.4 x 7.3 inches. 8 ounces
Beautifully stylish as with all Apple products
Amazon's AmazonBasics Keyboard for iPad $25.99
Smaller than the Apple keyboard, lightweight, black plastic construction, very good reviews
Bluetooth technology, slim and compact with low profile, scissor switch keys, keyboard shortcuts to access home screen, search screen, show/hide screen. Media and volume control. Works with any Bluetooth enabled device that supports HID
10.4 x 4.6 x 0.7 inches. 9.6 ounces
This is a great keyboard at a great price
Stand Alone Wired iPad Keyboards
When circumstances do not allow the use of a wireless keyboard then a wired iPad keyboard is an alternative option. The connection is instant and steady, but you will have to keep the Lightning or 30 pin connector port accessible of course, which may prove problematic if you are using an iPad case. It should also be noted that Apple states that "If you connect any wired keyboard into the iPad USB Camera port you will be able to type".
Logitech Wired Keyboard $59.99
Marketed as the first wired keyboard for iPad specially designed for the classroom the Logitech wired keyboard has a "durable, spill-resistant design". Available for both 30 pin and Lightning connectors. Good reviews.
12.2 x 5.9 x 1.1 inches. 14.1 ounces – Lightning Connector
12.2 x 5.9 x 1.1 inches. 12 ounces – 30 Pin Connector
Nice looking keyboard
iPad Stands
If you intend to use a stand alone keyboard you will need a stand for your iPad.
Cooler Master REN stand for iPad retails at $69.95 and it suits both the iPad and iPad Mini. Constructed of high grade aluminum, it has a 360 degree holder with two mounting clips, allowing you to slide it, clip it, stand it or hang it. Good reviews
H = 10.08 inches (in use); 8.23 inches (folded)
W = 1.85 inches
D = 2.56 inches
A very neat and unobtrusive stand
Another way of using a keyboard with your iPad is to use a case with the keyboard built into it, these include folio, shell and clamshell styles. The folio style case is the most common and gives your iPad all over protection, available in leather look or plastic this style of case is form fitting and can be difficult to remove, so if you prefer to use your iPad "nude" this may not be the one for you.
Logitech Ultrathin Keyboard Folio for iPad Air $99.95
This keyboard folio protects the iPad with an 8mm aluminum screen cover which attaches with a magnetic clip for quick and easy alignment. The stand allows for portrait or landscape placement and it has a built in wireless Bluetooth iPad keyboard. Instant auto on/off preserves battery power as it wakes when you open the cover and sleeps when you close it. Average reviews.
Keyboard shell
Lightest and thinnest of keyboard cases, the keyboard shell uses a rigid shell that integrates the keyboard and protects the screen of your iPad. Pulling the iPad away from the shell and popping it into a prop up slot above the keyboard allows for typing.
ZAGG ZAGGkeys PROplus Case/Backlit Keyboard for Apple iPad $99.80
This ultra thin aluminum case has a magnetic closure to secure your iPad and protect it. The backlit keyboard has a choice of 7 colors and the stand holds your device at an optimal viewing angle. Good reviews.
Clamshell style
The clamshell effectively turns your iPad into a laptop, with the iPad as the screen and the keyboard and case as the base. These cases offer a great deal of protection, unfortunately this also means that they add a good deal of bulk too.
ClamCase Pro iPad Keyboard Case $169.00
This keyboard case is constructed of aluminum and polycarbonate to provide impressive protection for your iPad. The 360 degree hinge offers a great deal of versatility, special function keys allow for instant access to your most often used features. Nice looking but on the heavy side. Good reviews.