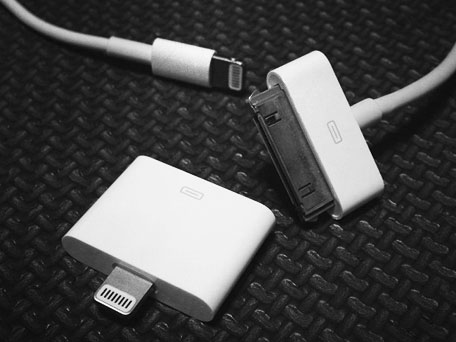 The Lightning to 30-pin adapter is an essential piece of equipment for connecting new Apple devices to older accessories that have the 30-pin connector, such as docks or peripherals. The original 30-pin connector was first introduced in 2003, although it was a reliable piece of kit Apple upgraded to the Lightning connector, a smaller and apparently more durable version which was also much more expensive.
The design of the Lightning connector prevented insertion the wrong way and its smaller size allowed Apple to design and create smaller and thinner devices, a very popular move with consumers. Not so popular with consumers however, was the fact that the Lightning connector was not compatible with the thousands and thousands of 30-pin accessories on the market and already in use in cars, offices and homes!
Apple introduced Lightning to 30-pin adapters to enable consumers to connect their new Apple devices to their older, 30-pin connector peripherals and docks, the Apple compact Lightning to 30-pin adapter at $29 and a larger version, the Apple Lightning to 30-pin adapter (0.2m) at $39. Available in Apple stores and online, both adapters work in exactly the same way; power, data and audio are all supported but it should be noted that video output is not. The smaller, cheaper adapter is great for docking but has problems with iPad cases and the larger, more expensive version is great with iPad cases but is not so good with docking. It would have been great if Apple had released a compromise option that was a combination of the two Lightning to 30-pin adapters. The latest version at $24.95, released new for 2014 is the iSmooth 2nd Generation Apple Lightning to 30-pin adapter for iOS 7, marketed as the only adapter with a 10 year guarantee, this adapter does not transfer audio on music docks.
All of these adapters are generally considered to be too expensive, it is nice to have genuine Apple products but the high price is certainly going to mean that non genuine versions are going to prove extremely popular with the consumer. Be warned, there are some very, very poor reviews out there for non genuine Lightning to 30-pin adapters – they may be much cheaper, we have seen them priced for lower than $1 but the reviews were absolutely scathing! The general advice seems to be do your research thoroughly before buying, find out what your device uses – either digital or analog, check your owner's manual or contact the manufacturer for advice, it really is best to be completely certain you are buying the correct adapter before you commit to purchase.