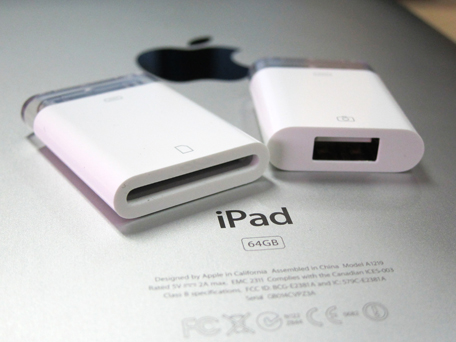 Download photos and video easily from your digital camera to your iPad Mini with an SD card reader. The iPad Mini has no port for SD cards so an accessory is required to add this function, the Apple Lightning to SD Card Camera Reader allows you import your pictures and videos to your iPad Mini, you can then edit them or email them to family and friends. The photos and videos are added to the photo library when your iPad Mini is synced with your computer.
Apple product information states that "the Lightning to SD Card Camera Reader supports standard photo formats, including JPEG and RAW, along with SD and HD video formats, including H.264 and MPEG-4." The iPad Mini will automatically open the Photos app after you have inserted your SD card into the card reader, you can then make your choice of which photos or videos you wish to import. This SD card reader is priced at a hefty $29, resulting in a great deal of criticism being levelled at Apple, not surprising then that many consumers have opted for the non Apple choice. The reviews are not great for this product either, with the number of one star ratings far higher than the other ratings and, at the time of writing, an average rating of 2.5. Common complaints are that Apple have not documented the fact that your pictures have to be in a DCIM folder or your iPad Mini will not be able to see them, the reader can only read cards up to 32GB – 64GB cards inserted will result in your iPad displaying the message "Contents not Available, Cannot read the connected storage." Some users have even reported that the card reader will not work at all since the iOS 7 update
We had a look at some non Apple versions of iPad Mini SD card readers and here are our comments about a few of them
Fidelity Lightning 8 pin 3 in 1 SD card reader Camera Connection Kit. This version by Fidelity works with SD cards less than 24GB, their marketing includes a disclaimer that the device is not made by Apple so an error message may appear saying "Accessory not supported" – their advice is to just click ok and ignore it.  Reviews are not good for this product, even going as far as warning iPad Retina owners not to buy. Expensively priced for a non Apple version at $29.95
Bolkin 5 in 1 Card Reader.  This lightning card reader supports MS, M2, TF cards, Mini SD cards and SDHC cards and is sold as compatible with the iPad Mini and iPad 4. This card reader is marketed as supporting iOS 7. Awful reviews with the majority complaining this product does not work with Apple devices or iOS 7. $19.99 is a high price to pay for something reviewed as "cheaply made"
FlyStone Lightning to SD Card Reader 3 in 1 Camera Connection Kit. Marketed as fully compatible with iPad Air, iPad Mini and iOS 7. This version does not support the kind of USB stick and SD card that needs to draw power from the iPad to work and it only works with picture files. Another version that advises the user to dismiss any warning messages regarding unauthorized Lightning cables and accessories. Bad reviews with the majority warning this product does not work with Apple devices. $13.75 is cheaper than the other non Apple versions but money wasted if it doesn't work with your device
It seems that this accessory has more than its share of problems, particularly with error messages and most often since the iOS 7 update, this includes the genuine Apple product but iOS 7.1 may have fixed this of course and we will be checking this out.
Special thanks bfishadow for providing the image