Are you thinking about transitioning to an iPad point of sale from your aging terminals or are you starting a new venture and feel the intuitive interface and cost savings provided by an iPad POS are perfect for a start up? You are fully aware of the time saved while training employees, the reduced potential for human error, easier staff tracking, ability for staff to roam the store while using a mobile POS and all the other benefits an iPad POS provides, but have you thought about the security? To prevent your new iPad POS from leaving with a customer, an iPad POS stand should be a top priority.
There are a large number of iPad point of sale security stands available, we will be covering our top 5 and starting from less than $100 they will not leave you bankrupt.
Griffin kiosk
The Griffin kiosk is tough enough to stand up to intense everyday use, even if you work in a pretty tough environment such as a restaurant or hospital. It is available as either a floor or desktop version that you secure by a steel arm that you have screwed to the floor or desk. The steel arm allows you to switch between portrait and landscape viewing while completely enclosing the iPad in an impact-resistant case. You also have the option to show or hide the camera and home button and all the cables are routed down through the arm to keep everything tidy. An app is also available that can restrict access to areas of the iPad and report if the device is unplugged, low on power or receiving physical abuse. The App is an additional $3 which feels a little unfair as you have spent $149.99 on the stand, however the app is available without purchasing the stand if you are only interested in the app.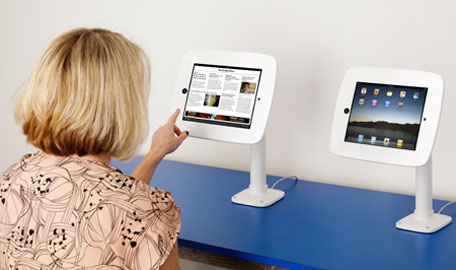 ITabPOS Alpha iPad Stand
The ITabPOS Alpha iPad Stand is designed to withstand abuse while providing security, it has a cast-iron base which is screwed down to a desk and also supports an additional Kensington. A nice addition with this iPad POS Stand is that it has been designed to support an inbuilt card swipe, this is enclosed within the stand making it perfect for commercial use. The rotating arm allows you to flip the iPad over so your customer can view the display, the iPad gyroscope will flip the display over. The ITabPOS Alpha iPad Stand supports standard VESA 75mm x 75mm mounts so you can mount almost any case to the arm or even a monitor if required. It isn't cheap at $278 and you should wonder if the added security for the card swipe is really worth it.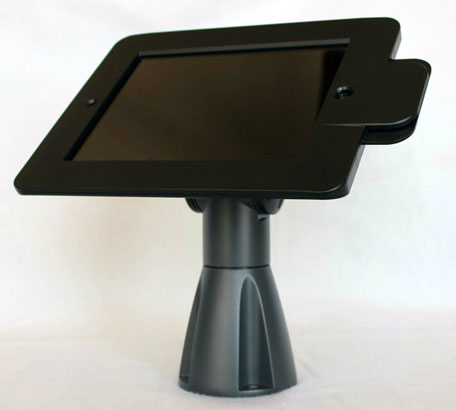 Maclocks Slide Basic iPad POS Stand Wall Mount
The Maclocks iPad POS are all seriously strong stands, all are made from high grade aluminum. It features open sides so you can still use the 30 pin connector, lightning connectors and the headphone jack for connecting card readers and other accessories and it keeps your iPad cool so it doesn't overheat and crash when you need it most. This is the wall or desk mountable version, you can screw the entire iPad point of sale to a desk preventing anyone from stealing it and the iPad inside. The case is also compatible with additional security locks if you are extra paranoid. The Maclocks iPad point of sale is available in three colors, black or white to match your iPad and a red option is also available. Maclocks floor stands can be customised to include your logo. Costing only $98.95 the Maclocks Slide Basic iPad POS Stand Wall Mount is incredibly good value.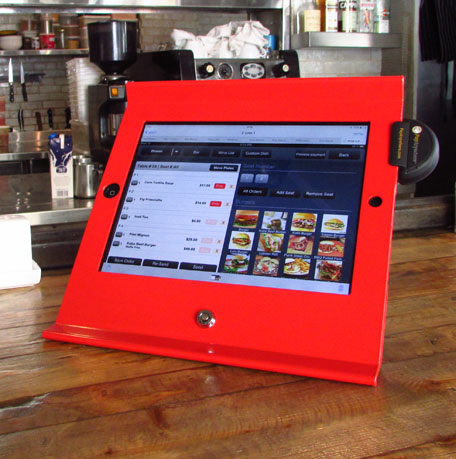 Square stand
The Square is one of the most well-known iPad point of sale, a mix of aggressive marketing and one of its founders being behind Twitter has pushed it to the front of the competition when searching for an iPad POS. You most likely already know the benefits of the easy payment and free card reader that plugs in to your iPad using the headphone jack. This is why I am seeing it more frequently in local shops. The only problem with the Square is your iPad is so vulnerable to theft. You really need to use it along with an iPad POS stand. For only $99 you can get a stand that is almost as stylish as the iPad itself, while securing the iPad to the desk and incorporating a card swipe machine. Square will also provide a receipt printer, cash drawer and barcode scanner. There is of course an issue, the Square Stand only supports 30 pin connectors so if you own the latest kit you won't be able use it.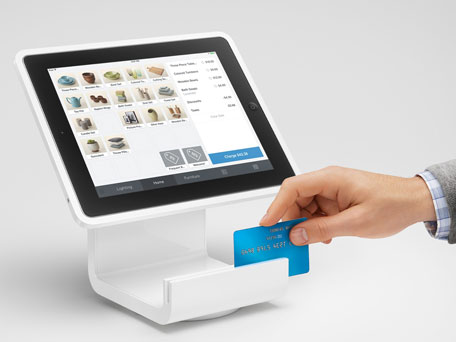 Happy Owl The Cashbox
Happy Owl has gone a completely different route with The Cashbox and, depending upon your type of business, it may really appeal to you. If you love products that blend old and new or technology and tradition then you will love the organically grown and beautiful bamboo that The Cashbox is constructed from. The Cashbox supports paper and plastic with its cash drawer, receipt printer and support for multiple POS platforms such as Square, Intuit, PayPal etc. It's not cheap starting at $700 but it is handcrafted in San Diego by skilled artisans and woodworkers who will even provide custom engraving. If you are in the right kind of business "this definitely has the potential to make people admire the cash register."Pocketables.