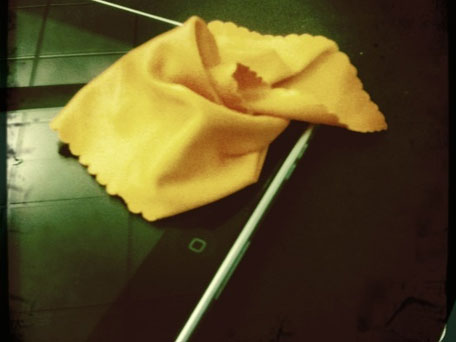 To some people the idea of a scratch on their iPad is something they refuse to even consider, they wrap it cosily in a case or fit a screen cover to protect it, others are not so bothered and feel their iPad is a tool and the possibility of any damage is an acceptable risk for something they use daily. If your iPad screen does suffer a scratch, is there anything you can do to put it right?
The iPad glass screen has an oleophobic coating, this material is a liquid repellent and also repels the natural oils we all have on our fingers. Apple warns that any attempt to polish away scratches may damage the oleophobic coating and also the touch sensitivity of the glass, the latter would render the iPad useless.
This is what your iPad user manual says
Handle your iPad with care to maintain its appearance. If you are concerned about scratching or abrasion, you can use one of the many cases sold separately. To clean iPad, unplug all cables and turn off iPad (press and hold the Sleep/Wake button, and then slide the onscreen slider). Then use a soft, slightly damp, lint-free cloth. Avoid getting moisture in openings. Don't use window cleaners, household cleaners, aerosol sprays, solvents, alcohol, ammonia, or abrasives to clean iPad. iPad has an oleophobic coating on the screen; simply wipe iPad's screen with a soft, lint-free cloth to remove oil left by your hands. The ability of this coating to repel oil will diminish over time with normal usage, and rubbing the screen with an abrasive material will further diminish its effect and may scratch your screen
There are, of course, many polishing products on the market that claim to remove scratches and blemishes from the screens of iPads and iPhones. Some are multi stage processes with applications from bottles of different liquids and others are single drop versions, all require patience and hard work and none claim to work miracles – although some list glowing testimonials on their websites. We feel that a number of these products will be no more than the type of cleaner used to buff out scratches from CD's and DVD's – along with a great deal of arm-aching hard work! The following steps offer more gentle advice:
Turn off your iPad and disconnect the charging cord
Lightly dampen a soft, lint free cloth with plain water – it is important that it is only very lightly dampened and that it is plain water with nothing added – NEVER spray liquid directly onto your iPad
Gently rub the cloth over the scratched area of your iPad screen in a circular motion, apply only a very light pressure
The Apple warranty does not cover scratches or cracks in your iPad glass screen, although if you have Applecare + you may be able to claim a replacement as one of your incidents. It is always a good idea to visit an Apple store or authorized Apple service center as they will be able to offer the latest up to date advice.
Generally the advice is to prevent scratches from happening in the first place by protecting your iPad screen with one of the many, many that are available out there, you will certainly have a lot of choice when it comes to protecting your iPad screen from scratches.
Special Thanks Robert Occhialini For providing the image.