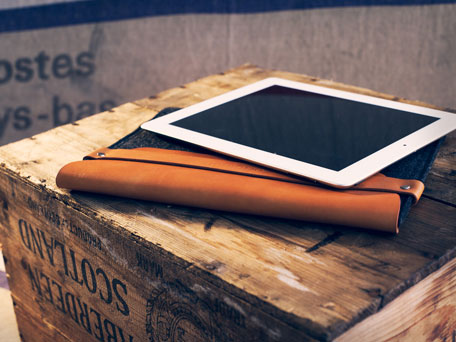 iPad sleeves are becoming more popular every day and are closing the gap on the ever popular iPad case but when choosing an accessory to keep your device safe what is best for you? If you like to keep your device naked when using it and feel any extra clip on or stick on accessories detract from the experience of using it, a sleeve may be an option. Personally I am extremely careful when using my iPad, if it gets damaged it is likely to happen whilst in a bag, car or on a table, this is why I use a sleeve. An iPad sleeve is a simple protective solution for easily carrying your device that allows you to keep it safe but still experience the luxury design you paid for when using the device. Sleeves come in many different sizes and materials, the most common materials are Neoprene, Leather and wool.  There isn't a huge amount of difference between what the material actually offers, although wool is less protective than leather and neoprene and is also far less water resistant. Wool versions are generally bolder with their styling with more choices of color and pattern available. Neoprene is made from synthetic rubbers and is the same material used to make wetsuits, as you can imagine it is more flexible than leather and sheet neoprene is impermeable to water, however this doesn't mean you can drop your device in water as the zip or Velcro will let water in. An added benefit with neoprene is that often it is machine washable so it won't shrink like wool or need special cleaning like leather. Leather sleeves are normally the toughest due to their rigid design which should prevent scratches and puncture marks. Both leather and Neoprene iPad versions offer protection from water and moisture that other covers can't match, except the Over Board – Waterproof iPad Mini Sleeve which is waterproof.
Neoprene Pro Sleeve
Incase created the iconic Neoprene Pro Sleeve protective solution for the iPad and iPad Mini, it is one of the most common iPad sleeves available due to its simple lightweight form-fitting design and is available directly from Apple. The inside of the zip is padded to prevent the zip from scratching the device, which is a common problem with cheaper versions. It is designed to support both the iPad and even relativity large iPad keyboards, such as the LogiTech iPad keyboard.  It is available in 5 different colors including Magenta, Green and Blue, plus the traditional gray and black. In reviews it is uncommon to see less than 4 stars and more often than not will receive a full 5 start excellent rating. Apple sells the Incase Neoprene Pro Sleeve for $29.99 which is very good value for money, however if you don't have that kind of cash you can often find it cheaper in sales, on Amazon or eBay.
BUILT iPad Sleeve
The BUILT iPad Sleeve is created from neoprene with an inner lining that further protects against scratches. It works in much the same way as the Incase Neoprene Pro Sleeve but with a far bolder hourglass shape design and loud colors, such as Navy with mini dots or a Graphite Grid. If you like the Neoprene Pro Sleeve but want to make more of a statement, get the BUILT iPad Sleeve as it is also $29.99.
Mujjo iPad Sleeve Brown
The Mujjo iPad Sleeve is the first wool design, its actually wool felt and leather, if you like to make an outstanding fashion statement with an elegant design rather than a bold, loud design, this will be perfect for you. The level of quality is unmatched; you really need to hold one to feel the quality of the leather and the wool felt. You will definitely receive positive comments from regular sleeve owners which will let you brag about the sustainable and renewable materials used, rather than synthetic rubber. This product is not just a fashion accessory, it protects the device extremely well, even with your smart cover attached. Mujjo isn't based in the US but delivery is very fast considering it comes from the Netherlands. One thing to look out for is that it is very often out of stock, as this is a niche item, however for only $56.20 it is well worth the money.
iPad Sleeve Sweater Wool by WormeWoole
The WormeWoole iPad Sleeve Sweater Wool is woollier than other wool sleeves but don't let that put you off, for only $22 you can get this Christmas jumper for your device. It does provide a level of scratch protection but only minimal impact protection. It will fit an Apple smart cover and is hand washable, what more could you want for $22?
Mulberry Simple iPad Sleeve $330
There are hundreds of leather iPad sleeves available and most look exactly the same – and obviously do the same thing as well – which is fine, but if you don't want to be the same as everyone else try the Mulberry Simple iPad Sleeve for only $330. That's not a typo, it really is $330. So what is so special about this version? Well it protects your device while not adding bulk and is a clean and compact design. Nothing special yet then, it is the brightest, luminous pink sleeve you will ever see, now that's a little different, it is also made from smooth and soft goat skin leather. The skin is then embossed with a grain appearance and tree logo, finally it is lightly finished to increase protection and enhance the grain for the added feel of quality. Over time the leather will soften and relax, highlighting the natural characteristics of the skin. If you want to make a statement to people who know about this kind of thing and like the idea of a pink, goat skin sleeve, then $330 is what you need to pay.
A major benefit of using a sleeve is that very often there is room for a separate keyboard or even a smart cover, so you can have the added benefit of multiple layers of protection for every situation.