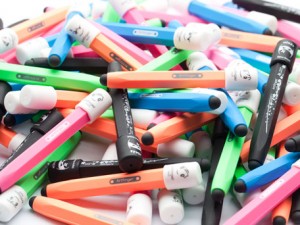 With the launch of Paper type apps for the iPad, the stylus suddenly came back into its own and is now a sought after and fashionable tool all over again
How do you use your iPad, do you use your finger or do you use a stylus? A lot of people with long finger nails, both acrylic and real finger nails, find it difficult to use their iPad keyboard. Their finger nail does not work at all on a touch screen and if the nail is really long it hides the keys from the user so the wrong key is tapped. Using a stylus may be the answer to this problem, it can certainly help with those sore, aching and tired fingers that have been over tapping on that keyboard, resulting in finger strain – the modern equivalent to writer's cramp perhaps? We have taken a look at a few styli, also known as styluses, and here are some of those out there on the market right now.
The Adonit Jot Pro Fine Point Stylus is available in a range of colors and is advertised as "the most precise stylus on the market". With fine tip accuracy that also incorporates sound damping to simulate natural writing, resulting in quieter strokes as you write. Constructed from steel and aluminum, the Jot Pro stylus is able to cling magnetically to your device, which means it can be easily carried and stored. Priced at $29.99 this stylus has quite good reviews, from "almost perfect but not quite" to "scratched my Nook HD+ screen – WARNING"
The Wacom Tech Corp. Bamboo Stylus is described as an "elegant, high end design" with a "25% smaller tip vs. Competitor models". This stylus is constructed of milled brushed aluminum and it has a unique smooth pen to paper feeling. Priced at $24.99 it also has quite good reviews, from "with the right App this thing rocks!" to "good stylus, but way overpriced"
The LYNKtec TruGlide Pro Precision Stylus is a universal stylus compatible with a range of devices, from phones, tablets and eReaders, we have included this one because we particularly liked it versatility. It has a precise 5mm tip for writing and drawing, actually marketed as "Ultra Precise Revolutionary Microfiber Tip Glides Like Silk". We also liked the fact that interchangeable artist paintbrush tips are also available to fit this stylus, although these are sold separately. Priced at $29.99 this stylus has rather good reviews, but some users did find the tip took some getting used to and it was often described as spongy.
Special Thanks Touchns for providing the image.