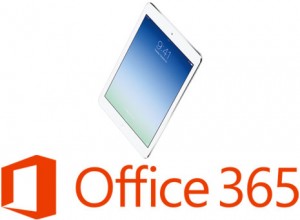 At a launch event hosted by the Chief Executive of Microsoft, Satya Nadella, it was announced that an iPad version of the Office software had been released; the apps available are Word, Excel and PowerPoint.
Microsoft had rather jealously guarded its Office software, preferring instead to shackle it to Windows based devices, but the world of technology has changed and Microsoft were suffering as consumers discovered other office apps that were just as good – and were also often free to download. Microsoft has had a lot of criticism levelled at them for just how long it has taken them to become more open with their product, it has been suggested that they delayed the release of their Office Suite until their own version of a touch centric tablet had been debuted, although Microsoft have strenuously denied this – insisting that they wanted to ensure that Office 365 worked with all devices. Satya Nadella commented that "When it comes to Office 365, the vision is fairly straightforward," he added " It is to make sure that the one billion Office users have access to the high fidelity Office experience on every device they love to use."
It has to be mentioned however, that only a very stripped down version of each of the apps is available for free, you will be able to read your Word docs and Excel data and make a PowerPoint presentation but to be able to edit documents or create new ones you will need to purchase an Office 365 cloud subscription, and that is going to cost you upwards of $70 a year. Your Office 365 subscription will give you Office for iPad installation on up to five devices and five copies across Office for your PCs and Macs. There are many Office 365 subscriptions that include Office for iPad, those you may be interested in are Office 365 Home, Office 365 Small Business Premium and Office 365 Midsize Business among others. The apps allow you to access up to date documents using Microsoft's Cloud services, OneDrive, OneDrive for Business and SharePoint. The iPad apps are proving to be a success so far, with Word the most downloaded free app for iPads in the Apple app store.
If you have already downloaded the free Office software apps and want to try the full version, you can sign up for a free 30 day Office 365 trial; this will allow you to use Office across your iPad, PC and Mac. The 30 day free trial can be found at www.office.com/try where you should go to the apps store and download the Office for iPad apps, you should be aware that you will require an iPad with iOS 7.0 or later.