Do you remember a little while back when Apple changed the old 30pin connector to the new lightning? There was an outcry, with the new connector being called stupid, pointless and ugly. Let's face it, it was pretty stupid as anyone upgrading their device had to upgrade all their accessories and the adaptors didn't work with a large number of audio and video accessories.
The lightning connector assisted in making the iPhone 5 1.7 mm thinner and 28 grams lighter than the iPhone 4s, obviously not by itself which could be seen as a little pointless. I do have to disagree with the ugly statement, the old 30 pin connector was pretty bad but the lightning connector still has a long way to go to compete with the MacBook Pro connector.
Anyway back to the main issue with the compatibility, you've just got home after buying your new iPad Mini and realise none of your old accessories will work. You've just spent all your hard earned cash on the iPad Mini itself so can't go out and replace all the accessories at once, but feel the docking station is a necessary addition to your desk, bedroom or living room as you like a safe place to keep your equipment while it charges and possibly have it play music using something other than the tiny speakers included in the iPad Mini. For a while no one provided any docking stations that supported a lightning connector and would hold the iPad Mini, but things have changed and there are now a variety of docking stations available, listed below are a selection of our favourites. Obviously these are all lightning connectors so do not work with the old 30 pin connectors.
Let's start with the Belkin Express Dock for the iPad, it's a nice design in an aluminium finish for a reasonable price that supports iPad, iPad Mini and iPhone. Belkin say it works with most cases meaning you can leave the case on, however based on our tests we couldn't find a case thin enough for it to actually work. We aren't the only ones having this issue, many people purchased this docking station based on Belkin marketing that said they could leave the case on, which is not true.
The Griffin PowerDock 5 Charging Station allows you to charge 5 devices at once and only takes up the space of an iPad. This sounds amazing but before you rush out and buy one, do you have 5 devices that need charging at the same time? Another thing to note is that it's called a PowerDock charging station, personally I would call it a stand with USB ports. Your devices will be balanced against pieces of Perspex while the untidy USB cables will run from the base of the PowerDock to each device. It's a surprisingly expensive USB hub for your Apple devices.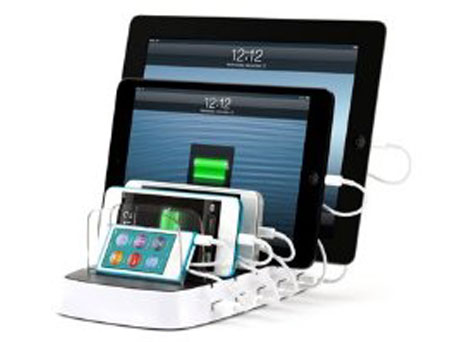 The following devices go one better, they also include speakers so you don't get that tinny sound from the tiny iPad Mini speakers.
The iLuv Aud 5 provides full digital sound for high-fidelity acoustics and overall the sound is excellent. It is easy to set up with nothing to install and will work plug and play. The instructions say to install the iLuv app, however it is not required and I wouldn't bother, it provides only a few mediocre features and the internet radio wouldn't even play. It has a stylish design and will look good on a desktop or anywhere in the house. The buttons are intuitive, easy to use and are located on the top of the docking station, however the images released by iLuv suggest the buttons are touch sensitive and glow but this is not the case, they are normal buttons and do not have any light, glowing or otherwise. The ring in the center does light up. An auxiliary input port is available so it is possible to connect other non-Apple or older Apple devices. It does have a few negatives, it doesn't have a remote so all control must be performed on the device. It also doesn't have Bluetooth which is surprising, meaning to play any music it must be connected to either the lightning connector or the auxiliary port. Finally, like many other docking stations, it doesn't work with cases; it will drive you nuts having to remove the case just to listen to music.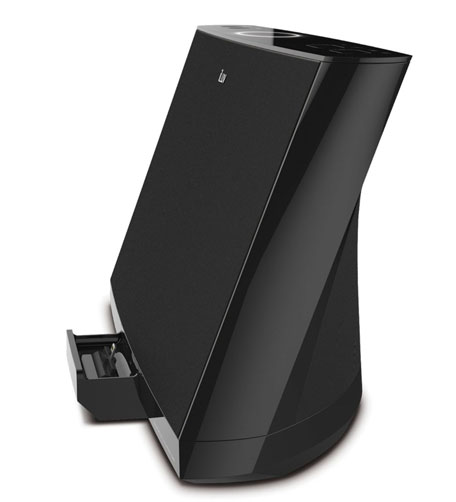 The Bose SoundDock Series III digital music system is a seriously high-end docking station and as a result is rather expensive. The sound quality is amazing and, true to their marketing claims, it is rich and room-filling. Similar to the iLuv Aud 5 it has auxiliary input to let you play other audio devices but once again doesn't have Bluetooth, which for me is a real let down considering the amount of money you will be parting with. It does have a convenient remote control which can control the system and basic iPhone or iPod functions, including playlist navigation. If you are trying to make it blend in or stand out, the variety of colors will assist, including black, green, orange, purple, blue and silver. One thing to be careful about when purchasing is the Bose SoundDock Series III is available as both a lightning connector and a 30-pin connector, so make sure you get the right one.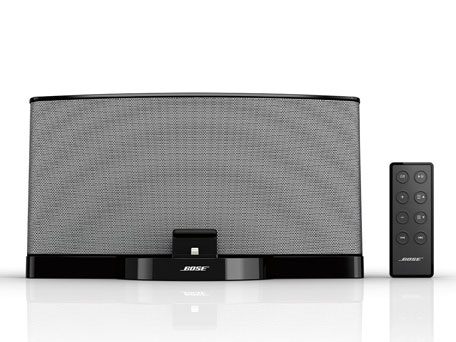 The JBL OnBeat Mini's sound may not be as good as the Bose but it is a lot cheaper. The OnBeat Mini also has some nice features, such as a rechargeable battery for convenient portability, extended playback time and a USB port. The internal battery will keep going for up to 8 hours, however it will only charge the iPad Mini when it's using AC power. An auxiliary input is included but again no Bluetooth is available. The name suggests that it will be smaller than all other alternatives, although it's the smallest being reviewed there are many other smaller docking stations available, however these will often look odd docking an iPad Mini.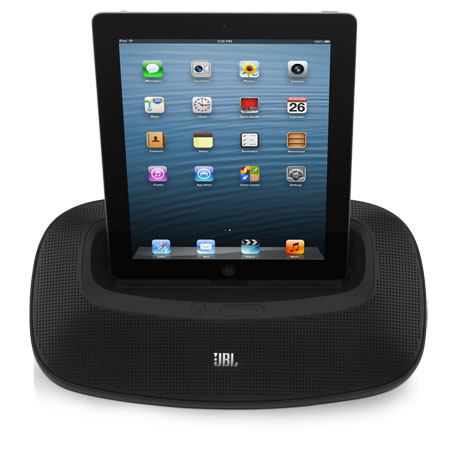 The JBL OnBeat Mini's bigger brother is the JBL OnBeat Venue Lightning, this is the first that includes Bluetooth and also supports HARMAN TrueStream. Again an auxiliary input is included, this time no remote is included, which is odd as you can move around with your iPad Mini but not adjust the volume on the JBL OnBeat Venue Lightning. As with most docking stations you need to remove the cover from your iPad Mini to be able to use it on this docking station. The JBL OnBeat Venue Lightning does have a couple of issues, the first is the lightning connector seems a little delicate and many users have broken it. The second issue is it will often go into standby mode to save power, which is especially annoying as this prevents it from being used as an alarm clock due to it cutting all device sound.  JBL do release firmware updates which gives confidence that any issues will be fixed.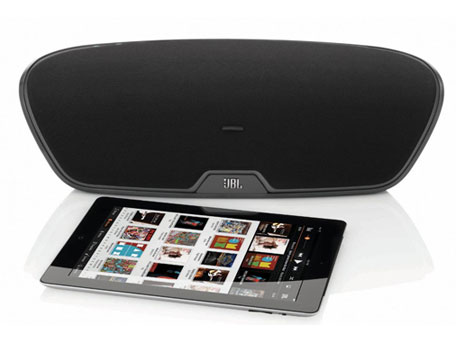 The Bamboo Panel iPad Mini stand is the odd one out in that it's not really a docking station at all; it's more of a stand. It doesn't charge nor does it have speakers but it looks good, is unusual and is constructed out of 100% real bamboo. It's lightweight and portable and the soft velvet liner at the top of the stand protects your Apple iPad mini.