Apple products have a habit of bringing out the neat freak in all of us. Apple's use of glass creates beautiful products that the competition can only wish for, unfortunately the combination of the two can result in anxiety for owners. Some owners have no problems at all with an iPad without protection but for others a protective film is essential to protect their nude iPad. Scratches and fingerprints are all possible, especially if using the device in a harmful environment or if small children will be using the device. If you want to keep your new, several hundred dollar investment safe you will need some protection, the problem is that very often the protection will ruin the sleek design of your pristine and sexy iPad. It's the equivalent to putting plastic covers on furniture, yes the furniture may last 50 years but throughout those years you will be annoyed by the plastic cracking and creaking while being uncomfortable and trying to forget that every summer you will be immersed in your own sweat. The main argument for using a screen protector is that you will keep your device in good condition. This is a perfectly good argument, you will get more money for it when you come to sell it and the next guy will enjoy your perfect condition iPad.
As you may be able to tell I'm not a huge fan of screen protectors for the iPad, however I do believe in being unbiased and, based on the screen covers being reviewed today, huge improvements have been made since I owned my last screen protector around 10 years ago. I'm not the only one who isn't a fan of screen covers, Apple isn't a fan either. Long before the iPad was launched Apple removed all the protective screen covers from their stores. This was a bold move considering it was one of the most popular accessories available for the iPhones. Apple did this without giving any reason; however a couple of reasons spring to mind. The first is that screen protectors are annoying to put on, especially difficult to achieve without bubbles, and they can be annoying to use, this resulted in a large number of people trying to return them. Apple understandably wouldn't accept them once someone had stuck it to their screen, got dust and hair stuck to it then got frustrated and tried to return it. This does not project a very good customer service, especially after the customer has very likely already parted with a large sum of money for the expensive iDevice.
The other possible reason is that Apple pride themselves on the quality of their screen and their scratch resistant quality as shown in this video
It is of course possible to scratch an iPad, as shown in the picture below, but it is more difficult than with rival tablets and there is really no comparison when testing a cheap Chinese copy.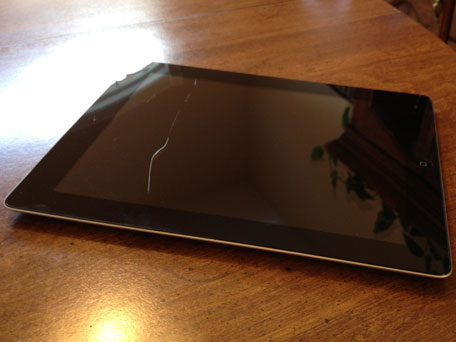 The following iPad screen covers are some of the best covers available but all have their strengths and weaknesses. We're going to start with the Tech Armor Anti-glare and Anti-fingerprint Screen Protector which costs $5 – $10. It is one of the best cheap protectors on the market that doesn't affect the screen clarity too much and the touch responsiveness is almost unaffected. It's far from perfect but the very cheap price means you can forgive it.
Next up is the Logic3 IPD719, this is another cheap one, it's not that common in the US but if you do find one don't expect to pay more than $5. It comes with no instructions and is very tricky to fit, you are likely to get bubbles, this is the same with all screen protectors but these just will not go away. We also noticed the hole for the home button is not in the right place so it doesn't line up correctly even when fitted. The next screen protector has been called "The worst screen cover I have ever seen"! The iPad Screen Protector LCD Screen Guard with Anti-reflective and Scratch-proof design for the Apple iPad, available from Amazon is only $2.94, yes you read that correctly, with free post and packaging as well. Our experience was similar to the Logic3, in that bubbles seem to be attracted to it like some kind of bubble magnet and again, not the correct dimensions for the iPad or any genuine Apple device. We wrestled with it for several minutes before eventually getting something that might protect the screen. Once on we could see a noticeable rainbow effect across the screen like watching a psychedelic video on TV. It also reflected sunlight like a mirror and was noticeably thick but it did do its job, if you are on an extremely tight budget and just don't care what your iPad looks like, this could be the screen protector for you.
That's the end of the super cheap, under $10 screen protectors. Skinomi TechSkin Screen Protector is a little more expensive, costing approximately $20, and is available for the iPad, iPad 2, 3, and 4. It does an impressive job in protecting your screen from normal wear and tear. The first layer is scratch resistant and works well, this layer also protects from UV rays which can lead to yellowing on both the screen cover and iPad. The second layer protects against more aggressive treatment like puncturing. When in use on the iPad you can see and feel under finger that a screen cover is in use, it's just not as smooth as the glass screen. It will do its job and do so relatively cheaply, for the normal user this is a definitely worth a try.
The next screen protector uses a different design and promotes a bubble free, crystal clear view of the screen. The iVisor Crystal for iPad 3 / 4 is incredibly easy to install, it literally goes on in a couple minutes with no bubbles or dust and only costs $29.95. Even when using it with a retina display there is no sign of distortion or fuzziness when viewing straight on, which a lot of screen covers suffer from, it also works great with a stylus. Delivery was quick and it arrived well packaged and with detailed instructions. While it is magical that you don't get bubbles or dust there are a couple of downsides to the different design. You do get a small amount of drag under finger or stylus; it's not much but it is there. Although viewing straight on didn't show any distortion, when viewing from an angle a slight rainbow pattern does show. If the gap between the iPad and the cover isn't even you can also notice a circular rainbow pattern in the center, although refitting does seem to correct this. It also suffers from large amounts of glare, when using in well-lit areas or in sunlight it can turn into a mirror. The most worrying thing is there have been reports that the grid built into the cover will, over time, wear its design into the glass of the screen and permanently damage the screen. We did not test the cover for long enough to test this, nor did we want to risk it. Moshi say it's a dirt residue and a strong cleaner will remove it, however Apple recommends against this. This issue alone was enough to put me off using the screen protector for any extended period of time.
Everyone seems to recommend the Martin Fields Screen Protector and I'm not really sure why, it is good quality and it will protect the screen well, it is available for the iPad 4 / 3 / 2 and costs $34.99. All good so far but, as with almost all screen protectors of this kind, you end up with loads of bubbles. I tried for a long period of time but it wasn't getting any better. I was disappointed as it isn't that cheap, the instructions say that the way to get rid of the bubbles is to peel the cover off towards the bubble then reapply, but this seems to only increase the number of bubbles. It's quite a shiny cover so it suffers from reflection and glare, you can also see your fingerprints. One thing that did intrigue me is that this cover is washable, however after trying multiple times to get the cover on without bubbles it got quite dusty so I washed it, and then I couldn't dry it, I didn't want to use too much heat for obvious reasons. It's like the stickiness grabs the water and won't let go, I would only wash it if you don't mind leaving it to dry for several days.
Zagg was one of the first, if not the first, to get into the iPad screen protector market and they already provided a wide range of smart phone cases. Zagg InvisibleSHIELD is available for the iPad 3 and 4; it costs $35 – $40 and is one of the few to offer a lifetime guarantee. The cover is well manufactured to exactly the correct dimensions for your iPad out of 0.22 mm thick resilient film; their marketing suggests the same film is used to protect U.S. Military helicopter blades. The InvisibleSHIELD is definitely one of the best screen protectors available, with zero signs of distortion, fuzziness or rainbows. The Nano-Memory technology built into the film assists the level of protection and durability and reduces the level of glare. As far as screen protectors go this is an excellent choice that is well worth the extra money, but it is still possible to scratch or smash the screen if you treat your iPad badly.
That's it for the film based protectors, the next one uses glass to protect the iPad's Gorilla Glass. The mPact Glass Screen Protection costs $49.99 for the iPad Mini and $59.99 for the iPad Air. The mPact is exactly as it sounds, a piece of 0.4mm thick (or should I say thin?) sheet of glass. The difference between the mPact and the competition is that the glass edges are chamfered, which means it stays in keeping with the iPad design and reduces the chance of hitting the most vulnerable area of glass based screen protectors. The mPact build process is complicated and includes multiple additional layers that other glass covers will not receive, such as an anti-fingerprint, anti-glare and antibacterial layers, along with UV cutting layers. Very few screen protectors, even the very high-end ones, compare with the level mPact's light transmission and color fidelity. The mPact still wasn't as smooth as the standard iPad screen, however the responsiveness was totally unaffected. Overall it is a very good screen cover but $60 may be too much for some people.
That sums up what we believe are some of the best screen protectors available. I am still not sold on the idea and will not be purchasing a screen protector for my iPad, however the technology has improved dramatically in the past few years as more people adopt a touch screen device, if you haven't used a screen protector in the past 5 years you should buy one just to try it again. I have two main gripes with screen protectors; firstly that their thickness very often stops the magnetic bond between the iPad and a Smart Cover from working, so you end up relying on the screen protector completely or have a flappy cover. The other issue is that screen covers do not stop the screen from cracking, only one meter off the floor and landing in any position is highly likely to result in a crack across the screen. Personally I prefer to look after my equipment in the traditional nervous fashion, for example you wouldn't put a film over your glasses and you wouldn't buy a Rolex and put a film over the glass, you just look after them.
If you already have a Smart Cover, Smart Case or other similar protective accessories, a screen protector may be unnecessary, however if you prefer a nude device then having a layer of protection may be something to think about.
Special Thanks Doug for providing the image, sorry to hear about the scratch.