Apple gives less storage space than advertised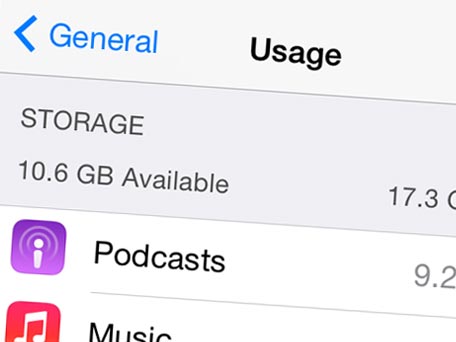 Apple is being sued again, this time over the amount of storage space that is required for its latest operating system, iOS 8. The class action lawsuit has been filed in U.S. District Court, Northern California, by two men from Florida who have been named as Christopher Endara and Paul Orshan. The lawsuit claims that "Apple gives less storage space than advertised" and it focuses on those Apple consumers who own iPad, iPhone or iPod touch devices with 16GB or less of storage space, these devices will be either older models or the lower priced latest models and the argument is that around a fifth of their available storage space is taken up by the latest Apple operating system. The class action lawsuit alleges that Apple "fails to disclose" that iOS requires as much as 23.1 per cent of the storage space advertised for its 8GB and 16GB devices, adding that "the discrepancy between advertised and available capacity is substantial and beyond any possible reasonable expectation".
Apple has often been accused of deliberately creating problems with its iOS updates, with devices slowing down significantly and reductions in storage space that often required deletion of apps and photos, it has been suggested that Apple does this in order to force the consumer to upgrade their device. Of course it can be argued that each update contains more features, allowing you to do more with your device, but more features are certainly going to require more operating room …. and so on. To put it simply, as far as storage is concerned – you get what you pay for. The iPhone 6 with 16GB is priced from $199, for the same phone but with 64GB the price you will pay starts at $299 and the 128GB model is priced from $399. This latest class action lawsuit also alleges that when the owner of a device reaches their storage limit Apple pushes the consumer into buying storage space on its iCloud service. You will receive 5GB of storage for free when you sign up for the Apple iCloud but when you have used this initial 5GB and require more it will cost you $0.99 a month for 20GB, this increases to $3.99 for 200GB, $9.99 for 500GB and $19.99 a month for 1TB of storage. The lawsuit claims that Apple "aggressively markets a monthly-fee-based storage system called iCloud" and that "Using these sharp business tactics, (Apple) gives less storage capacity than advertised, only to offer to sell that capacity in a desperate moment, eg when a consumer is trying to record or take photos at a child or grandchild's recital, basketball game or wedding". Apple has yet to comment.
For more information view Case5:14-cv-05659-NC