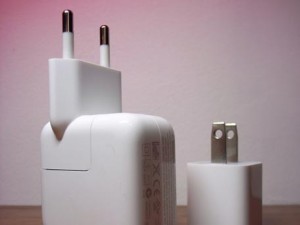 Apple recently began a recall for certain models of the 5W European USB power adapter, these adapters are at risk of overheating, Apple suggests that anyone who finds that they possess the model in question should not use it but should instead exchange it for free under their exchange program.
A statement on Apple's website said "Customer safety is always Apple's top priority, and we have voluntarily decided to exchange every affected power adapter for a new, redesigned adapter, free of charge. We encourage customers to exchange any affected adapter for a new one as soon as possible using the exchange process below."
The affected adapter is Model number A1300 with the letters "CE" in solid gray and it was supplied originally with the iPhone 3GS, iPhone 4 and iPhone 4S, but only those models that were shipped from October 2009 to September 2012. It was also sold separately as an accessory. Owners can take their potentially faulty adapter to an Apple retail store or a participating Apple authorized service provider, after verification of their iPhone serial number they will be issued with a replacement adapter free of charge.
The affected adapter was sold in the 40 countries we have listed below:
| | | | | |
| --- | --- | --- | --- | --- |
| Albania | Austria | Belgium | Bulgaria | Chile |
| Croatia | Czech Republic | Denmark | Egypt | Finland |
| France | Germany | Greece | Hungary | India |
| Indonesia | Israel | Italy | Latvia | Lithuania |
| Luxembourg | Macedonia | Moldova | Montenegro | Netherlands |
| Norway | Paraguay | Poland | Portugal | Romania |
| Russia | Slovakia | Slovenia | South Africa | Spain |
| Sweden | Switzerland | Turkey | Uruguay | Vietnam |
This is not Apple's first exchange program for USB adapters, there was a similar recall in the United States, Canada, Japan and many Latin American countries in 2008 when faulty iPhone 3G chargers were replaced. There was also Apple's USB charger takeback program for third party products, Apple offered owners of non genuine USB chargers a discount on a genuine Apple USB charger if they traded it in, Apple stated on their website "Recent reports have suggested that some counterfeit and third party adapters may not be designed properly and could result in safety issues. While not all third party adapters have an issue, we are announcing a USB Power Adapter Takeback Program to enable customers to acquire properly designed adapters." This particular program followed the death of a twenty three year old Chinese woman who sadly died after being electrocuted when she answered her iPhone 5 whilst it was plugged into a third party iPhone charger.
Special Thanks Caio Chassot for providing the image