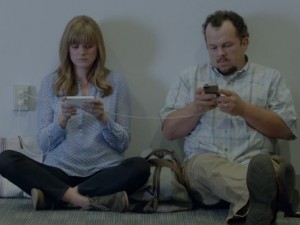 Apple has once again been the target in a new Samsung commercial; the latest ad follows previous primetime TV commercials in which Samsung poked fun at Apple. The new ad is a minute long but this time it did not appear on TV, it was instead posted to Samsung's official Mobile USA YouTube account.
In order to promote their Galaxy S5, Samsung takes a swipe at iPhone users, calling them "wall huggers" and saying they can be found "clustered around power outlets, near recycling bins, stained carpeting and bathrooms". Samsung have copied and are making full use of a remark made by the new Chief Executive of Blackberry, John Chen, who recently bad mouthed iPhone users when he said "I call you guys wall huggers". The ad shows owners of the iPhone 5s in different areas of an airport, usually sitting on the floor, with either their phone already plugged in to a power outlet waiting for it to charge or searching for an outlet in which to charge their phone. The voiceover says these iPhone users are "tethered to the wall" and "denied the freedom to enjoy even the most basic things" at the same time one of the actors playing an iPhone owner says "I hear the new iPhone is coming out soon" another person says "hope it has a better battery" followed by a third voice that says "totally". So Samsung is making fun of the new iPhone, even before it has been released. Samsung then shows off their Galaxy S5 with ultra power saving mode and swappable battery features whilst the actors playing iPhone users all appear to be envious. The ad ends with the words "don't be a wall hugger" and "the next big thing is here".
Samsung have been making this kind of Apple bashing commercial since 2012, making fun of Apple fans who were waiting in line to buy the iPhone 5 when their own phone had already been released. However, it seems that Apple fans are not to be swayed, if the latest figures from comScore are anything to go by, the research firm say that Apple's iPhone has grown in popularity, with its lead as the top smartphone in the USA actually increasing during the three months to May. Perhaps the writers of these ads should take a little time to consider the impact of their commercials, iPhone fans are not likely to switch allegiance if they feel they are being mocked for their choice of purchase.