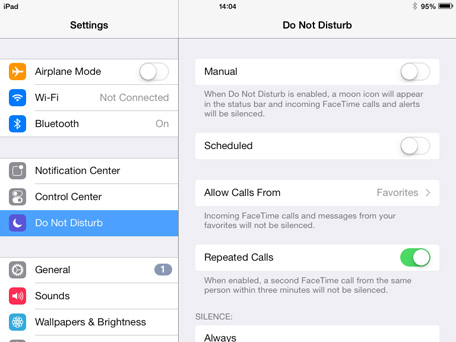 Ever since the iOS6 update iPad and iPad Mini users have benefited from the excellent do not disturb feature. It does exactly what it says on the tin, when enabled any incoming Calls, FaceTime calls and alerts will be silenced.
This is an excellent feature if you sleep with your iPad Mini next to your bed or are attending an important meeting and do not want to be disturbed. All do not disturb features are located under settings, followed by do not disturb. There are two choices when enabling the options, you can manually enable it by selecting manual or, alternatively, you can schedule a "from" and "to" time which allows you to enter specific quiet hours.
Working alongside these two options is another setting which allows you to remove the silencing when the iPad is in use by selecting Only while iPad is locked, selecting Always will mean the iPad is in Do Not Disturb mode even when using the device.
There are two further options that allow you to control the Do Not Disturb feature on your iPad Mini even further. If you don't wish to block calls and FaceTime calls from everyone you can select to allow calls from favourites, your contacts or from a particular contact group. Being able to create a contact group does not yet exist in iOS7 and an article is coming soon explaining how to create a contact group.
The final option is to allow repeated calls, this no longer silences the call if the same person has attempted to contact you within 3 minutes. This is an excellent feature to allow people to contact you in the event of an emergency as they are likely to ring multiple times, however once salesmen and recruitment agencies realise they can bypass the do not disturb by calling multiple times, you should expect some disturbances.
I would like to see Apple go even further with the do not disturb feature, adding work cannot contact me but family can if it's an emergency and they phone multiple times. Another great option would be to silence particular email accounts, so I am alerted to personal emails but not work emails once I have finished work. I doubt employers would like this feature as much and you are less likely to keep your work-provided iPad Mini if you leave this feature enabled all day.