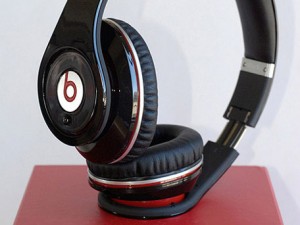 Apple is reported to be in talks to buy Beats Electronics, maker of premium headphones, earphones and Bluetooth speakers and, since January, the on demand music streaming service – Beats Music.
Founded by hip hop star Dr Dre and music producer Jimmy Iovine, Beats Electronics became most well known for its distinctive headphones (some say there is a dark secret regarding the true origin of their design), its subscription based music streaming service was launched in January this year and is similar to Spotify. Why is Apple considering buying Beats? Some media reports say that Apple is interested in acquiring Beats for the music streaming part of the business, this has been refuted by other Apple watchers who feel that, as Apple already has its very successful iTunes and iTunes radio, another music streaming business would be an unnecessary acquisition.  There are some who say that it is because Beats products are seen as fashion status symbols, this could link to rumors that Apple is reportedly keen to enter the "wearables" market but at the same time keen to avoid the geeky image of Google Glass. Some comments by various financial wizards have been less than complimentary about the possible purchase of Beats, with most of them summing it up in one sentence; Apple is completely out of ideas and is unable to innovate! Piper Jaffray analyst, Gene Munster, wrote in a note to investors "We are struggling to see the rationale behind this move," he added "Beats would of course bring a world-class brand in music to Apple, but Apple already has a world-class brand and has never acquired a brand for a brand's sake."
Most headlines about this potential deal give a purchase price figure of $3.2bn, which is a huge mark up from the valuation of Beats last September at $1bn when it sold a 50 per cent stake to Carlyle Group (CG). It will be the biggest acquisition Apple will have made so far, CEO Tim Cook said recently that he was not averse to large acquisitions, he said Apple had bought 24 companies in the past 18 months and was "on the prowl" for more acquisitions.
The news is that Dr Dre and Jimmy Iovine are set to become Apple executives if the deal goes through, a recent report hinted that they will both take the stage at the 2014 Worldwide Developers Conference in June.
There has been no official comment from Apple or Beats.
Special Thanks Foeoc Kannilc for providing the image.