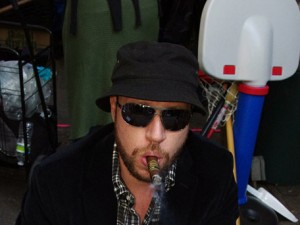 A well known New York street artist has claimed that Apple has stolen a slogan from him, James De La Vega says he is the common law owner of the trademark and has instructed a lawyer to file a cease and desist letter to Apple for using the phrase "You're more powerful than you think" without his permission.
Apple have used the slogan "You're more powerful than you think" in their latest high profile ad campaign for the iPhone 5S. The ad has the song "Gigantic" by The Pixies playing in the background and shows TV viewers how the phone can record a rock band, make videos and launch a string of rockets.
James De La Vega, 46, is well known for his motivational messages which can be mainly found in the East Harlem area of Upper Manhattan and are a part of his 10 year long graffiti series called "Become Your Dream". De La Vega, who has a degree in fine arts, is a graduate of Cornell University in Ithaca, New York State and he once taught art at York Preparatory School, in 1999 he was a recipient of a Joan Mitchell Foundation Painters & Sculptors Grant. He once sold his art through his own East Village gallery but this closed down in 2010. Designer Tory Burch recently used a De La Vega graffiti motif in fashion accessories and handbags.
The lawyer instructed by De La Vega, Mr Richard Garbarini, is reported to have written to Apple saying that they had violated De La Vega's rights as the "common Law owner of the trademark", it also says that Apple's usage of the slogan "clearly misleads customers into believing De La Vega somehow supports, approves and/or endorses its products" adding that it "contradicts and undermines" the message that De La Vega wants to give. The letter is also reported to finish by saying that De La Vega wishes to avoid filing a lawsuit and that he hopes a settlement for the use of the phrase can be negotiated.
De La Vega said that other companies have approached him in the past to seek his permission to use the "powerful" quote as it is so closely associated with his work, "I have a whole series of quotes. They're all intended to inspire, uplift and empower human beings," he added "These guys were well aware of that when they decided to use it as a way to motivate their base to buy their phones.' De La Vega insists that the slogan belongs to him, saying to reporters "words are weapons", and that "I know many of you may not think much about 'stealing intellectual property' but it's really a big deal," adding "It is illegal and motivated by greed and a desire to control and manipulate."
An Apple spokesperson declined to comment on the matter.
Special Thanks David Shankbone For Providing The Image Of James De La Vega