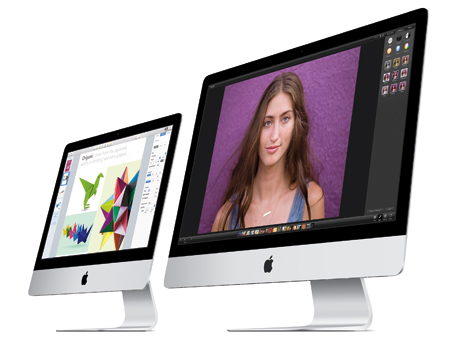 The Apple Special Event that was held on October 16 at Cupertino, California unveiled a host of new and improved products and one of them was the 27 inch iMac with Retina 5K display, many people are saying it was this new iMac that stole the show!
This latest iMac may have the same design as the previous versions of iMac; it is still staggeringly thin, just 5mm at its edge, but the screen display on this model has been described as utterly gorgeous and in a class of its own. Apple boasts that "you experience unbelievable detail. On an unbelievable scale" and all the reviews and reports that we have seen agree with Apple, it really is at the top of its class. The iMac with Retina 5K display boasts a 14.7 million pixel 5K display, which is 67 per cent greater than that of a 4K version, with a screen resolution of 5120 x 2880. This model features the latest AMD high performance graphics, allowing you to "experience stunning motion graphics, jaw-dropping visual effects, and 3D graphics so true to life that you'll feel like you're part of the action."
The new iMac with Retina 5K display is not only a beautiful thing to behold, it is also packed with power and is the fastest iMac that Apple has built – so far. This iMac is available with quad core Intel Core i5 processor with 8GB memory and 1TB Fusion Drive, upgrades are available to quad core Intel Core i7 processor with either 16GB OR 32GB memory, there are also a variety of options regarding storage. Of course all upgrades or options depend entirely upon how much you wish to spend.
Turbo Boost 2.0 comes as standard on the new iMac with Retina 5K display which Apple says "allows the processor to manage performance without sacrificing efficiency." This model also features Thunderbolt 2 for the fastest transfer of data yet. The powerful 802.11ac Wi-Fi technology is also featured in this latest iMac for data rates of up to 1.3 Gbps, which Apple says is triple the speed of the previous 802.11 standard. The iMac with Retina 5K display runs Apple's latest desktop operating system OS X Yosemite.
The quad core Intel Core i5 processor with 8GB memory, 1TB Fusion Drive and AMD Radeon R9 M290X graphics with 2GB of GDDR5 video memory is available at a starting price of $2499.