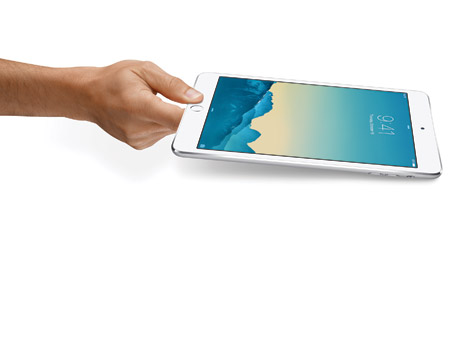 Apple introduced the iPad Mini 3 to the world on October 16 during an event at Cupertino, California, although if you had blinked you might have missed it. Unusually for the unveiling of a new product Apple seemed to avoid going into too much detail about the iPad Mini 3, in fact their Senior Vice President of Worldwide Marketing, Phil Schiller, spent fewer than 30 seconds presenting the device to the audience and talking about its features. This is not really surprising as the iPad Mini 3 is almost identical to its predecessor, the iPad Mini 2!
The Apple website says "We made iPad mini small. We made it fast. We made it incredibly capable. And now we made it even better. With advancements like Touch ID and iOS 8, and a new gold finish, there's even more about iPad mini to love." Hmmm, the recently launched iPhone 6 and iPhone 6 Plus both have the new A8 processor and the new iPad Air 2 has the A8x processor so one would expect the new iPad Mini 3 to have been given an upgrade too …… but no, it has the same specifications as the iPad Mini 2. The camera is the same, no upgrade there either and the screen too, in fact the only differences are that the iPad Mini 3 has Touch ID and the device is now available in the new gold color. The iPad Mini 3 will run on iOS 8, as does the iPad Mini 2.
As with the iPad Air 2 the iPad Mini 3 can be pre ordered from October 17 with the release date anticipated to be October 24, although Phil Schiller actually said it would be some time "next week".
Prices start at $399 for the 16GB Wi-Fi only model, $499 for 64GB and $599 for 128GB. The LTE model is priced at $529 for the 16GB, $629 for the 64GB and $729 for the 128GB.
The iPad Mini 2 is now available at the lower price of $369, although there are also reports of prices as low as $299 so it will probably pay to shop around. Current popular opinion seems to be that if you are in the market for a small tablet the iPad Mini 2 is the recommended device as it is better value than its replacement, the almost identical iPad Mini 3.