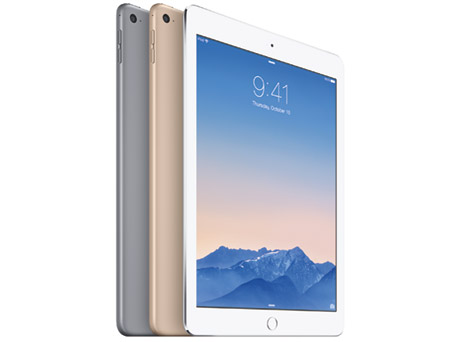 Described as the "thinnest, most powerful iPad ever" the iPad Air 2 was unveiled to the world on Thursday 16 October 2014 in Cupertino, California with the Apple website stating that this iPad is "So capable, you won't want to put it down. So thin and light, you won't have to".
There is no denying the beauty of this latest iPad but then all the iPads have been beautiful, so what is different about this one? Firstly it is thin, and we mean really thin, at a thickness (or should we say thin-ness?) of only 6.1mm – meaning 1.4mm has been shaved from the original model, the iPad Air 2 is 18 per cent thinner than its predecessor and weighs only 0.96lb! Senior Vice President of Worldwide Marketing, Phil Schiller, boasted that two of the new iPad Air 2 models could be stacked on top of one another and still be thinner than the original iPad, "It is the thinnest iPad we have ever made" he said. Apple say they have achieved the "astonishingly thin silhouette" of the iPad Air 2 by fusing three layers of the Retina display into one, adding that this improved the contrast and gave more vivid colors. The iPad Air 2 also has an antireflective coating, which Apple say reduces screen reflections by 56 per cent, making it "the least reflective display of any tablet in the world". The iPad Air 2 has a 9.7 inch display with a resolution of 2048 x 1536 – 264 ppi. Apple designed the new A8X chip specifically for the iPad Air 2 which they claim delivers a 40 per cent faster CPU performance than its predecessor with 2.5 faster graphics. The 64 bit architecture means this iPad is "as powerful as many personal computers", all this with a 10 hour battery life! The iPad Air 2 runs iOS 8.1.
The ipad Air 2 has Touch ID technology for "an unprecedented level of security", this will also allow users to securely buy from iTunes, iBooks and the App Store, it will also support Apple Pay. The iPad Air 2 has the new iSight camera, which Apple say is their best iPad camera yet. You will discover improved sensors, advanced optics, time lapse video, panorama, slo-mo and burst and timer modes. The iPad Air 2 has faster Wi-Fi, in fact it is more than twice as fast as the previous generation of iPad, the Wi-Fi + Cellular model uses LTE technology and allows you to choose from a variety of carriers.
The iPad Air 2 comes in three colors, the original silver and space gray and an all new gold color. Prices start at $499 for the 16GB Wi-Fi only model, $599 for the 64GB and $699 for 128GB. For 4G models prices start at $629 for the 16GB, $729 for the 64GB and $829 for 128GB.
The iPad Air 2 can be pre-ordered from October 17 and the release date will be some time "next week" according to Phil Schiller, this is widely expected to be October 24.