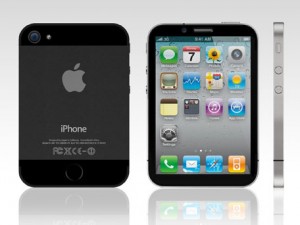 Rumors are rife that Apple will launch the iPhone 6 later this year, possibly even earlier than September, which was of course the launch time of the iPhone 5s and iPhone 5c. Apple are not as secretive as they once were, many of the predictions made prior to the release of the iPhone 5s and iPhone 5c were correct and now the rumor mill is in action all over again. Many analysts are suggesting that Apple needs to respond to the competition, who have already released smart phones with larger screens, so this could mean an announcement may be made at the World Wide Developer's Conference (WWDC) in San Francisco. The WWDC is an annual event hosted by Apple to showcase what those in the tech world can expect to see from Apple in the future, this year the event will run from June 2 to June 6 – don't forget that the first four generations of iPhone were released in June.
This latest iPhone is widely expected to arrive with a larger screen and there are also two versions anticipated, one with a 4.7 inch display and the other with a 5.5 inch. It is reported that Apple is hoping the larger screen sizes will tempt many of the "Android switchers" back to the iPhone. Other rumors are hinting that the display will use Sapphire glass and technology known as quantum dots; Sapphire glass is extremely durable, supposedly twice that of Gorilla glass, and is virtually scratch free. Quantum dots are nano crystals that are made from semi-conductors, this technology can produce much more accurate colors.
Some rumors say that although the new device will be larger, it will also be thinner and slimmer because it will be made from Liquidmetal. Apple own the exclusive rights to Liquidmetal, it is highly durable and much stronger than aluminum so it can be used in smaller quantities to achieve the same results. It is, quite simply, possible to spread it thinner.
So will this new iPhone actually be an iPhablet, will it have a curved screen as some are suggesting, how much is it going to cost, will it be called the iPhone 6 or will it have a completely different name without a number at all? When will it be released? Some launch dates that have been hinted at range from May to October 2014, it has been reported that some buyers are so convinced it will be early rather than later in the year that they are delaying the purchase of their new phone in anticipation and iPhone 5 sales are beginning to show a slight dip already. The only people who know for sure what the new iPhone will be like, when it will be released and how much it will cost are those who are in the know at Apple, none of these rumors have been confirmed by Apple and nor are they likely to be. We will all just have to wait and see what happens.
Special Thanks Brett Jordan for the image.