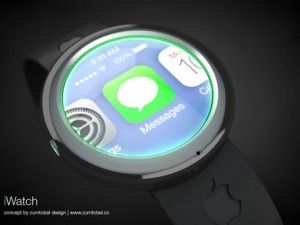 Rumors of a smart watch, possibly called the iWatch, from Apple have been flying around for many years and now the latest speculation is that it will be released sometime over the next few months, but are we really likely to see the iWatch launched in 2014?
It has been some time, 2008 actually, since Steve Wozniak mentioned to reporters that "Apple's future could lie in an iWatch" and Apple watchers have been talking about it ever since, then Tim Cook, Apple CEO, said in May 2013 that "the wrist is interesting" which only added fuel to that particular fire. Apple have hired well known and respected names from the world of fashion and design, probably what a company would normally do if they were about to develop a watch, which is, for some, a fashion accessory. Apple have also trade marked the name "iWatch" in a number of countries, including Russia, Mexico and Japan, although it has to be said that they have also trademarked many other names that have not ever been used – so far.
There are many, many predictions about the functions and features of the iWatch – if there is to be an iWatch and if that is indeed what Apple decides to name it. Rumors are that the iWatch will focus on sports and health related features, with some saying that it will contain technology that can predict heart attacks. Will it have an iOS or will it run on software similar to the iPod Nano? Most think it will have Bluetooth and that it will probably be capable of communicating with your other devices, iPhone, iPad, iMac, Macbook, etc. It may be able to receive texts, sync with iTunes and listen to your tracks via Bluetooth earbuds, Siri is certainly a possibility and so is the inclusion of maps but some are saying it will even be able to make and receive calls – hmmm, not sure about that one – isn't this all getting a little bit too Trekky?
There have been vast amounts of speculation about what the iWatch is going to look like, with some saying it will be glass, but completely curved glass with not a flat piece anywhere, rumors are that Apple have been considering using curved Corning glass, or even their new Willow Glass which amazingly can "flop as easily as a piece of paper in the wind without breaking". Others are saying that the bendy, curvy qualities will be made possible by the use of flexible P-OLED or Plastic OLED, possibly provided by LG. The screen size is rumored to be anything from 1.3 inch to 2 inch, although the 1.5 inch is the favored size for most speculators – who also mostly seem to agree that there will be different sized versions, one for him and one for her.
Although it has been mentioned that the iWatch might contain solar charging batteries, this is not a popular idea and most think charging will be achieved via motion or magnetic induction, everyone seems to agree that Apple is keen to avoid the usual "plug in" method of charging for the iWatch.
Rumored retail prices vary from $150 to $1000, with most settling somewhere in the middle range. Competition from LG, Samsung, Sony, Pebble, Google and others is sure to be fierce but the Apple iWatch is always going to have the edge, it is certain to be a thing of beauty.
Special Thanks Philipp Zumtobel for providing the image.