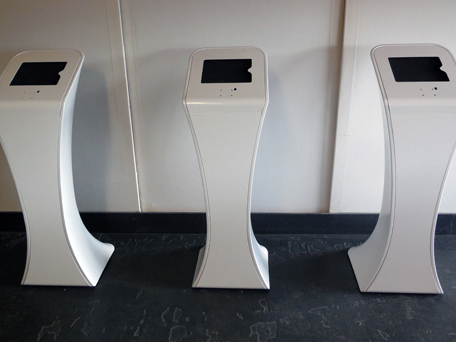 An iPad kiosk stand is an innovative, attractive and interesting way to provide information to consumers.
Convenient and secure, an iPad kiosk stand will help to improve sales by allowing customers access to the information they require when sales staff are otherwise engaged. Potential customers are often put off by the very appearance of a sales person; they immediately feel pressurized and head for the door before they have even had the chance to make their inquiries. This type of stand is perfect for this kind of customer, easy interaction will allow them to access the details they require, putting them in control and at ease, they will leave with a positive impression of your product and your company and may even be more likely to make a purchase – even more so if the device is also used as a point of sale (POS) tool. They are a valuable tool for use at exhibitions or trade shows, even just a couple of stands placed in prime position will assist in delivering pertinent information, possibly allowing savings on the employment of staff.
An iPad kiosk stand is a floor stand that holds an iPad, available as either a single floor standing unit or as a floor stand with a removable iPad mount, it can be sited inside a kiosk/enclosure or placed by itself in a prominent position. The device is held securely with all buttons and jack sockets concealed, this means that non authorised users will be unable to interfere with settings, although you will be able to remove it easily for cleaning and maintenance when necessary. The kiosks are designed to allow WiFi, 3G and Bluetooth signals if required.
We have looked at a number of these stands, although we have found that the amount available from which to choose is increasing at a staggering rate as more applications for their use are introduced, here are just a few examples:
Displays2go Hinged Enclosure with Double Locks Kiosk Stand for iPad 2
This stand is marketed toward retailers, restaurateurs, etc. The podium can hold the iPad in a vertical or horizontal position and measures 43½ inches tall. Constructed from heavy duty aluminum this sturdy stand has a hollow column for cable storage and a built in power strip, the hinged enclosure has two locking devices for security and the case conceals buttons to prevent user tampering.  It has good reviews. $346.26 with free shipping
Pyle Tamper Proof Anti Theft iPad Kiosk Safe Security Public Floor Stand, Holder, Public Display Case with Cable management for iPads 2/3/4
This stand is constructed from fortified steel and heavy duty aluminum for extra security; it is marketed as suitable for high traffic areas such as lobbies, front desks, showroom floors, etc. All cables are concealed internally. Access to the Home button allows the user to navigate programming and menus. The pole height is 37.80 inches and the base diameter is 11.81 inches. It has good reviews. $173.99
Testrite Classic Aluminum Pro iPad Kiosk Display Floor Stand with Round Base
This stand is marketed as clever and attractive with a unique, durable and handsome display for any environment. Constructed of aluminum it allows for vertical and horizontal viewing with a 360° rotating frame and features integrated USB cables and anti theft hardware. It has poor reviews $188.98
Although the use of iPad kiosk stands is growing rapidly, they are still enough of a novelty to actually attract consumers, which is always a good thing of course!
Special Thanks Swipespot for providing the image.