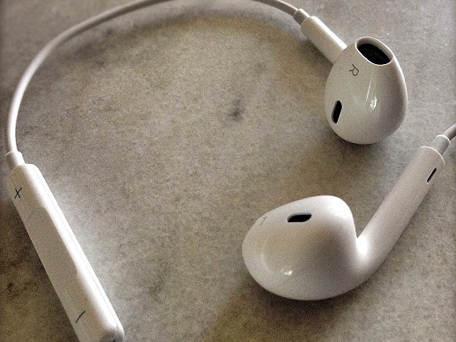 Is the iPad just a big iPod? No. Is the iPad designed specifically to play music? No. Yet I was still surprised when both my iPad and iPad Mini didn't come with any headphones. My iPhone came with headphones so this would be the first time I would need to buy a pair of iPad headphones.
Headphones are one of the most common accessories purchased for the iPad, they can be quite noisy little devices so if you don't want to disturb the person next to you on the train, bus or in the office while you watch a film or listen to music they are quite an important accessory to have.
The chances are high that you already have a pair of Apple EarPods lying around but if you don't and you want a good pair of reliable iPad headphones, these may be perfect. For only $29.99 you get a pair of headphones that can easily compete with some very high-end headphones, plus they include a mic and remote so you can use them for calls. The latest design doesn't include the old style rubber washer and as a result many people find they are more comfortable and have deeper, richer bass tones than the old design. If you are more of a fan of the In-Ear design for your iPad headphones check out our review of the Apple In-Ear Headphone. If the Apple In-Ear headphones aren't your thing but you still prefer the In-Ear design try the urBeats In-Ear Headphones, the sound is incredibly clean and clear and you don't have to turn them up super loud in order block external sounds. They're made of a single piece of hard chrome, meaning they are lightweight and durable. They are very good value at only $99.95, you will not regret buying them – especially as they also work with online voice and video chats.
Have you ever seen someone working out on a treadmill while watching a film on their iPad with Bluetooth iPad headphones? It's incredible and with the Jabra Sport Wireless+ Headphones it's possible. The Jabra Sport Wireless+ Headphones have a behind the ear shape, so they don't pop out with every step, and have no wires at all so you don't get tangled while running. They even have a backup built-in FM radio for when you leave your iOS device at home. Unfortunately the in-ear design can leak sound and isn't completely effective at blocking out external noises, some people have also reported issues with the rubber quality. Personally I think they are worth the $99.95.
The following three headphones are full size headphones, designed for blocking out as much external noise as possible while being incredibly comfortable. The first is the Urbanears Plattan Plus Headphones, costing only $59.99 is by far the cheapest of the three. The on-ear design doesn't completely cover the ear but does block out the majority of any background noise, the cushions are incredibly soft so you can wear them on your ears for long periods of time. A nice addition is the remote integrated into the fabric cable that lets you control the majority of your iPad. Another nice extra is the right ear cap contains a splitter so that your friends can plug in their headphones and listen with you. The 3.5mm plug is sturdy and made from quality plastic, while being slim enough to use with a case on your iPad.
The Harman Kardon Noise-Canceling Over-Ear Headphones are one of the best, if not the best, iPad headphones available. The design covers the entire ear and they feature a proprietary closed-loop, active digital noise-cancellation technology, which does an incredibly good job at blocking out any external noise while maintaining well balanced bass, mid and high tones. Even for extremely long periods they fit comfortably. The build quality is exceptional and they're more stylish than many other competitors. With an inbuilt mic and remote they can be used for calls or Skype. The $299.95 is high but for people who want the best iPad headphones available, this is the price you must pay.
If you are considering the Beats by Dr. Dre Studio Wireless Over-Ear Headphones you have probably experienced previous models available. Let's start by saying these are the best so far. The highs and mid-range are perfect and surprisingly clear, however the bass is still heavy, but a big improvement over previous versions. The dual-mode Adaptive Noise Canceling (ANC) works as you would expect and, as they put it, "Puts the world on mute". The integrated remote works well allowing you to receive calls, change volume and skip songs etc.  They're available in 6 colors including white, red, blue, grey, black and matt black. The main party trick of the Beats by Dr. Dre Studio Wireless Over-Ear Headphones is the wireless Bluetooth connectivity, which works extremely well up to 30 feet away, while the battery will last 12 hours of continuous usage, a standard USB connection is supported so charging shouldn't be an issue. You may be thinking they are great for the gym as there are no wires; however I find sweaty ears uncomfortable. A nice feature, that I think more manufactures should implement, is the ability to update the firmware by connecting to a computer. They're very good iPad headphones but $379.95 is an extremely large amount of money to pay, if you aren't interested in wireless the Harman Kardon Noise-Canceling Over-Ear Headphones may be a better choice for your iPad headphones.
Special Thanks EhsanCinematic for providing the image.