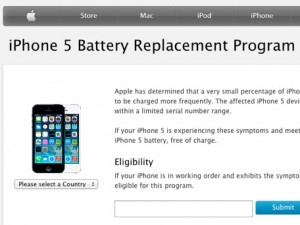 Apple has launched a replacement program for defective iPhone 5 batteries after discovering that a "very small percentage" of iPhone 5 handsets may "suddenly" suffer from short battery life or require charging more often.
Apple have found that a number of devices sold between September 2012 and January 2013 contained faulty components, Apple say that the affected units "fall within a limited serial number range" and owners can check via the Apple website to see if their unit is one of those that qualifies for a free battery replacement, owners will need to enter their Apple ID, password and device serial number to be able to check eligibility.
If you find that your iPhone 5 serial number falls within that limited number range and your device qualifies for a free replacement battery you will be required to have your iPhone examined to verify that it is in working order and is eligible for the program. You can choose to take your device to an Apple Authorized Service Provider, an Apple Retail Store or telephone Apple Technical Support. Apple advises that prior to your visit you should back up your data to iTunes or iCloud, turn off Find my iPhone and erase data and settings by going to Settings > General > Reset > Erase all Content and Settings. It should be noted that if your iPhone 5 has any damage "such as a cracked screen which impairs the replacement of the battery" you will need to rectify the matter before the battery can be replaced, in this instance Apple say that "there may be a cost associated with the repair". If you had already suffered from battery problems with your iPhone 5 and have replaced the battery yourself you can contact Apple regarding a refund.
For the time being the free battery replacement program is limited to the United States and China, it will then be extended to users in other countries from August 29, replacement batteries will be guaranteed by Apple for two years after the initial retail sale of the device or until March 1 2015 – whichever is longer. Your iPhone 5 warranty will not be extended and Apple state that they "may restrict or limit repair to the original country of purchase".
Visit the Apple website for full details on how to find your serial number, IMEI, MEID, CDN and ICCID number, to access these details from your device go to Settings > General > About and scroll down until you see the required number.