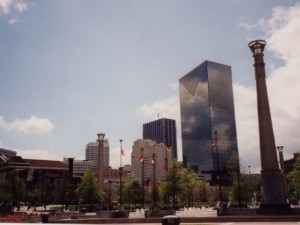 Is your iPad completely broken or failing fast? Do you live in Atlanta or the surrounding area and need help to get your treasured device repaired? We have taken a look at some of the companies offering an iPad repair service in your neighborhood and here are a few that may be of interest to you.
First we will take a look at iDeviceMD. Located at 1230 Peachtree St NE, Atlanta, GA 30361, this franchised operation has branches all over the US and offers a repair service, parts, accessories and tools for the Apple iPad, iPhone and iPod; they also offer the option of purchasing your device from you. Certified technicians can repair your broken or damaged i-device by appointment only, either in your home or at local, authorized locations in your neighborhood. Opening hours are Monday through Friday 9.00–7.00/Saturday 10.00–4.00/Sunday 12.00–4.00. Call 404-418-1175. Reviews are particularly good, with comments such as "Great service!!!! Even better prices!!!!" and "Incredible service, great turn-around. Couldn't have asked for more. They were great!" We have not come across any bad reviews for this branch of iDeviceMD.
Now we will talk about Bob Knows Repairs, also known as Bob Knows Phones. This company is based in Atlanta and is located at 2221 Peachtree Rd NE, Atlanta, GA 30309, although they have several repair shops in the Atlanta area. iPad, iPhone and other makes of smartphone, tablet and laptop repairs are offered; customers can either take their device into the repair shop or mail it to them. This company offers a price match guarantee and a $10 discount voucher can be found online. Opening hours are Monday through Friday 10.00-7.00/Saturday 10.00-5.00/Sunday 12.00-5.00. Call 404-937-1989. Mixed but mostly good reviews ranging from "These guys are awesome!!!! Very helpful!!!!" and "terrific" to complaints about expensive parts and parts on order taking forever to arrive.
Our third Atlanta iPad repair company is called iHospital, not to be confused with eye hospital! This is another franchised operation that lists branches in Florida, Georgia and Tennessee on its website. iHospital states that its expert "D i D, Doctor of iDevices" repair and upgrade all makes and models of Apple iPad, iPhone, iPod, iPod Touch and Mac computers, no appointment is necessary. iHospital also offer in house, on site and online training courses for you and your team of Apple users. Opening hours are Monday through Friday 10.00-6.00. Call 404-953-3500. Mixed but mostly good reviews for the Atlanta branch of iHospital, from "OMG Best service EVER!" and "How did I not know about the iHospital?!? What a great find!" to "Don't waste your money on this store…go to Target!" and one complaint about the necessity of repeat visits for the same repair.
Cellairis is our next iPad repair company, this is an international franchised operation and they have several branches in the Atlanta area, we will cover the branch that can be found at 4400 Ashford Dunwoody Rd. Atlanta, GA 30346. Cellairis state that they have "created a repair outlet that is a trusted source for iPad repair", with iPad 1, 2, 3, iPad Air and iPad Mini repairs carried out by certified repair technicians, they are also a retailer of cellular accessories. Store opening hours are Monday through Saturday 10.00-9.30/Sunday 11.00-7.00. Call 770-393-4193. We have been unable to locate anyone with anything nice to say about this company, do get in touch if you have had a good experience with Cellairis and we will be happy to post your comments.
Last but certainly not least in our list of iPad repair centers located in the Atlanta area are Metro Computer, this company can be found in Midtown, 950 W Peachtree St. NW, Suite 250 Atlanta, GA 30309. Metro Computer market their services toward families, students and small businesses and say they are "setting the new standard for personalized customer care" with "reliable, affordable and professional service." This company carries out repairs to iPad, iPhone, Mac and PC, covering a range of hardware and software repairs, including broken LCD/LED screens, virus removal, data recovery and more. Store opening hours are Monday through Thursday 10.00-7.00/Friday 10.00-6.00/Saturday 10.00-2.00/Sunday 12.00-2.00. Call 404-865-3435. Wonderful reviews across the board for this company, from "The customer service here is outstanding" to "I plan on referring anybody in the area who needs their computer fixed" and "If you are having computer issues, take your computer to metro computer, I was very impressed!"
Special Thanks Jerome Bon for providing the image.