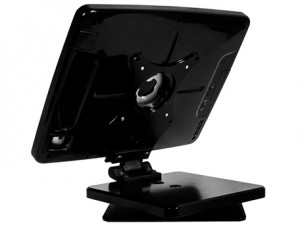 Small businesses worldwide have been adopting iPads for use as their Point of Sale (POS) and they're incredibly good at being a POS. You do need a couple of accessories for a full setup, such as a cash drawer, receipt printer, card reader and, most importantly, you need a secure stand – which is why we covered which iPad POS Stand is best a couple of months back. Since then we have had several business owners contact us saying they are on a tight budget and have opted for an iPad Mini for their point of sale. They have the card reader, cash drawer and receipt printer all working fine but their iPad Mini is propped up using a Smart Case which isn't very secure. The small size of the iPad Mini makes it incredibly portable and it can literally slide into a coat pocket, the downside of this of course is your staff need to be on a constant look out for people dropping your POS in their pocket and walking out of your shop. So the question is can you get iPad POS Stands for the iPad Mini and are they are secure as their larger counterpart? The answer to both is yes.
First up is the Pad Grip Executive made by SOLVE-IT! Of all the iPad Mini POS Stands we are reviewing this one is by far the least secure. It should be noted that this is not the same as the Pad Grip Pro Itab POS. You should think of this POS stand as more of a conventional stand that your iPad Mini clips into, the security problem is that it can just as easily unclip. It is designed for people such as doctors and executives where the chance of their iPad Mini being stolen is far less, if you are in this environment and are not that fussed about security but want a quality stand you will be pleased to hear that the Pad Grip Executive has a polished Black Granite base that provides a sturdy weight of 3 pounds. The Pad Grip Executive costs almost $100 which does seem expensive for a stand, however it is one of the best stands available.
Next is the Bouncepad Mini Flip, security is not an issue with the Mini Flip as your iPad Mini is secured in a strong aluminium case that is screwed down to your counter with security screws. The Mini Flip is a very good point of sale which can hold your iPad Mini in either portrait or landscape mode. The lightning connection is still accessible so you can charge your device while it remains in place, the base is also accessible so it is possible to hide a battery pack within the triangular space within the base. While being a very good point of sale and very secure, the Bouncepad is also very stylish and is available as standard in White or Black. Alternatively as the Bouncepad is powder-coated you can opt to have it in a custom color or pattern so you can match your décor. This customization does cost extra and varies depending upon your color selection, prices start at $155 for the customisation while the standard variation costs $295.
Strata iPad Mini
The Strata iPad Mini is one of the most secure iPad Mini POS stands available, it is very customizable as it's available with many different stands and brackets. The reason it is this customizable is the base Strata iPad Mini form supports standard VESA mounts, so it's compatible with most kiosk stands and even monitor stands. Several options are also available, for example access to the home button can be controlled, so you can prevent users from having full access to the iPad Mini and physically restrict them to a particular app. It is also available in two styles, black or clear acrylic so you can show off your iPad Mini or keep it hidden to prevent temptation to thieves. It is designed to work with Square POS, however can work with most iPad POS systems currently available. The main downside is the price, not that it is overly expensive but the price seems to vary depending on not only how many you want but also who you are. This is a shame as you feel they are randomly picking a price, we have seen the price vary from $200 – $300 which is quite a wide range.
Maclocks set the standard for POS Stand security and the Slide Basic M iPad Mini POS Stand is no exception. It may not be stylish or have bells and whistles but it should stop any thief from getting your iPad Mini. The Slide Basic Mini is just like its larger counterpart, only on a smaller scale, it supports almost every card reader available and also charges your iPad Mini while it is in place. It is available in three different colors, Black, White and Red and is also available with several different brackets, including a swinging arm and floor stand. The basic wall mounted model is also incredibly cheap at $99 and the most expensive customizable floor standing model is only $449. If you're not bothered how it looks get the Slide Basic M iPad Mini POS Stand.
Special Thanks iPadEnclosures.com for providing the image.