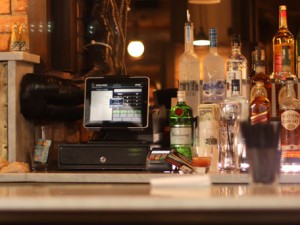 The iPad is not just a beautiful piece of technology, it is also a very powerful and versatile tool that businesses of all kinds can use to their advantage. One such use for the iPad is that of point of sale, or POS, as it has become widely known, the touch screen operation and enormous range of apps available make it the perfect device to use as a POS. Internet access is another plus point, the iPad POS can keep track of your customers, display catalogs, place orders, process payments and allow you to access your records from anywhere at any time. We have taken a look at some of the point of sale systems on the market and here are a few examples:
The QuickBooks Point of Sale is a complete system as your software purchase is accompanied by a cash drawer, scanner, receipt printer, credit card reader and GoPayment mobile card reader – all for free! Marketed as "the sales and inventory tools you need to make better decisions" a downloadable version of QuickBooks is available as a thirty day free trial so you can try before you buy, which is always a good idea. Priced at $600, which is not a bad price considering all the free hardware included
The Shopify POS uses an iPad app to allow your customer to make their choice from your catalog, then you can process the whole sale from start to finish, ending with taking payment using a card reader and either emailing or printing the receipt. Described by a user as "this is what retail looks like in the 21st century" this POS system works alongside your existing hardware or you can purchase what you need from Shopify. Priced at $49 per month, it is available as a free trial
ShopKeep POS was founded by a merchant and is described as an "iPad POS system made easy". This system can be set up in minutes, is customizable for the smooth process of transactions and is compatible with a variety of credit card processors. Cloud based data storage means you can access your records from anywhere. Priced at $49 per month, another version offering a 30 day free trial
Arguably the most well known point of sale system on the market today, the Square POS advertises its system with the words "Grow your business with free front of house and back office tools and pay only when you make a sale". The free downloadable software is customizable and compatible with a variety of hardware accessories, such as cash drawers, receipt printers and barcode scanners. The Square POS has free software, free web dashboard, free online store and free card reader. Pay only when you sell, a good idea for the budget conscious business.
Special Thanks Philip Matarese for providing the image.