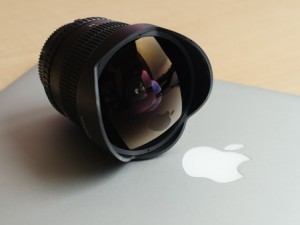 Apple are reported to have filed patents with the US Patent and Trademark Office for a range of attachable and interchangeable lens options for the iPhone, although it is not certain whether these lenses will be available for use with the iPhone 6 or a later model.
There are many, many third party, after market attachable and interchangeable lenses designed to fit the iPhone out there so it is not really surprising that Apple has filed these patents in order to compete for a share of that particular market. Lenses can be purchased for a variety of purposes, including wide angle photography, fish eye, macro shots, telephoto shots or even combination packs that will cover most or all of your requirements.
One of the patents filed applies to an attachable and interchangeable lens with a bayonet style fixing titled "Bayonet attachment mechanisms", which entails a mount attached to the iPhone with the opposing bayonet style socket into which each lens would be connected simply by pushing whilst twisting – just like a light bulb.
Another patent filed by Apple is for a magnetic fixing for the various types of lenses, titled "Magnetic add-on lenses with alignment ridge". Magnets are favored by Apple for smart iPad covers/cases and they work very well for this purpose but it has been suggested that Apple is concerned about just how secure lenses attached by magnets would prove to be.
The next patent reported as being filed by Apple is for a panel at the back of the iPhone titled "Back panel for a portable electronic device with different camera lens options". This is described as being a removable panel that can be attached to the case, presumably meaning an iPhone case although we suppose it could just as easily be applied to an iPad or even a laptop.
The last patent filed that we will cover today is for the rather futuristic sounding "Artificial muscle camera lens actuator", this would operate using an artificial muscle function instead of the usual motors that are used for focus and aperture control. Artificial muscle is also known as electro active polymers and the technology is already used in video game controllers for the haptic feedback function so mass production is already possible and it wouldn't be too much of a leap to utilize that functionality in another form.
Attachable and interchangeable lenses for the iPhone have been on the wish list of many people for a long time now, we will just have to wait and see whether or not this wish will be granted when the new iPhone arrives.
Special Thanks Chris Lucidtech for providing the great picture.