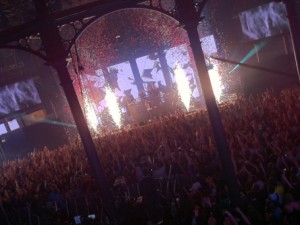 Apple has announced the headline acts for this year's iTunes Festival, the fab festival is returning to the UK for its eighth year with performances by a host of legendary artists at the famous and historic Roundhouse in Camden, London. Senior Vice President of Internet Software and Services at Apple, Eddy Cue, said "The iTunes Festival in London is back with another stunning line-up of world class performers and tremendous new acts" he added "These live shows capture the heart and soul of iTunes and we love bringing them to our customers in the Roundhouse, as well as to the millions of people watching all over the world for free".
You can expect to see Pharrell Williams, Sam Smith, Maroon 5, Beck, Kylie Minogue, Blondie, 5 Seconds of Summer, Chrissie Hynde, David Guetta, Kasabian, Calvin Harris, Jungle and many, many more famous, and also not so famous, artists from around the world. This year will see appearances from more than 60 iTunes Festival performers over 30 amazing nights throughout September.
The grade II listed Roundhouse can be found in Camden, North London, dating from 1846 it was originally built as a circular building to house a railway turntable grandly known as The Great Circular Engine House. It was only used for railway purposes for about ten years and was utilized for a variety of purposes until it became a performing arts venue in 1964, since then it has hosted appearances from many world renowned artists including Bob Dylan, Pink Floyd, The doors, The Rolling Stones, David Bowie, Jimi Hendrix, Led Zeppelin, Motorhead, Elkie Brooks and The Yardbirds. Declared a National Heritage Site in 2010, the Roundhouse venue can house around 3,000 people.
Apple is giving away tickets to the iTunes Festival – for free! You can apply for tickets to some or all of the shows although you can only win a max of five pairs of tickets, photo ID will be required upon entry at the venue and tickets are not transferrable. Applicants must be over the age of 14 and must have a valid iTunes account. Applications for tickets should be made via iTunes, through apps or online, although you can also try and win tickets in the many competitions in magazines, newspapers and on the radio. If you are not successful in getting hold of a ticket you can still take part in the fun by watching live or on demand on your iPhone, iPad or iPod Touch, or you can watch via iTunes on your computer or on Apple TV.
Special thanks David, Bergin, Emmett and Elliott for providing the images.