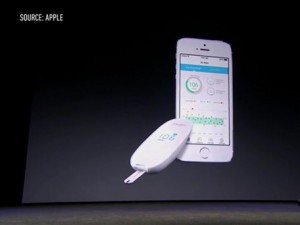 Apple has recently announced its new iOS 8 feature called HealthKit at the World Wide Developers Conference 2014 (WWDC) in San Francisco and it was generally well received, but not well received at all by a start up company in Australia called …. yes you've guessed it – HealthKit!
The start up company was founded by former Young Australian of the Year Alison Hardacre and ex ANZ man Lachlan Wheeler and launched more than two years ago, around the same time as the name www.healthkit.com was registered. Not only do the names match but the general concept is also pretty much the same too. It doesn't look as if they are going to just roll over and let Apple get away with it, Managing Director of HealthKit, Ms Hardacre, said "We've been really disappointed about what's happened" as she calls on all of her company's Twitter followers to "tell Apple's CEO (Tim Cook) exactly how you feel" via Twitter. Ms Hardacre said she didn't know about what had happened until 4.30am Australian time, HealthKit's blog posts say "I woke up at 4:30am and turned to my Apple iPhone to check my emails," followed by "Someone had emailed me to ask whether Apple stomped all over your name or did we do a secret deal with them. Huh?!" The blog writer wondered "As an Apple fan, I feel let down. … Are they so big that they are above doing an ordinary Google search?" Ms Hardacre recorded a video message on HealthKit's Twitter feed saying "We first launched HealthKit.com two years ago, just after we'd bought the domain," she added. "We've grown really big in Australia and now we're building in other countries around the world including Canada, UK and the US. This has thrown everything up in the air." She added "I'd like to think that Apple forgot to spend five seconds and type www.healthkit.com into their browser. But other people have said that possibly they did, and thought that we were just a startup and they could really just squash us." The HealthKit website is hoping that their supporters will rally behind them and makes the request "Let us know what you think at @healthkit (yes, it's our Twitter handle), or you can tell Apple's CEO exactly how you feel about this on his Twitter handle, @tim_cook".
There has been no comment so far from Apple.