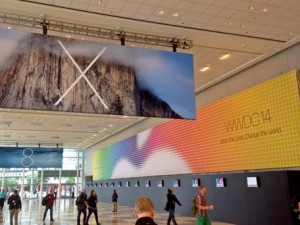 The World Wide Developers Conference (WWDC) 2014 has started, with delight for some and disappointment for others.
The annual WWDC hosted by Apple in San Francisco is now in full swing and it kicked off with some exciting new product announcements and updates, although most of these will be only available to developers as beta versions initially and not available to the rest of us until the fall.
Those who were most the delighted were probably software developers, the announcement of the launch of a new coding language certainly gained the most appreciative and loudest applause of the first day at the WWDC. Apple say that the language is designed to make programming easier, faster and more secure for its developers; Apple's Senior Vice President of software engineering, Craig Federigh said "We have a new programming language. The language is called Swift and it totally rules," it certainly seems to have been generally well received, with Tim Stevens, Editor at Large of CNET live blogging "As a coder, I can tell ya, Swift looks impressive. Proof in the pudding, grain of salt, etc. etc. But what I just saw looks great, ". The Swift language guide is already available in iBooks.
No new iPhone yet, which has disappointed some people for sure, in fact no new hardware announcements at all. Many analysts didn't expect to see the iPhone 6 released so soon this year anyway, predicting a launch in September instead.
Apple announced its entry in the market of smart home technology, this has been long anticipated and is said to allow control of any compatible appliances, devices and gadgets via the internet usingiOS 8. There will also be health monitoring technology using iOS 8 to monitor and record the fitness and health of the user via iPhone motion processing. Apple's messaging service, iMessage is to be beefed up and will be capable of sending audio or video messages, also combining iOS 8 and OS X 10.10 "Yosemite" will allow any call/SMS to be sent to your desktop or laptop using the new "Handoff" technology. iMessage will also allow communication with non iOS devices, including Google's Android. Apple is also to allow third party keyboards and the purchase of third party apps from Apple's App Store using TouchID fingerprint scanning.
"Over the past six years, a massive cultural shift has occurred.
It's changed how we interact with one another. Learn new things.
Entertain ourselves. Do our work. And live our daily lives.
All because of developers and the apps they create.
For five days, one thousand Apple engineers and five thousand
developers will gather together. And life will be different as a result.
Write the code. Change the world."
https://developer.apple.com/wwdc/
Special Thanks Brian Brantner for providing the image.