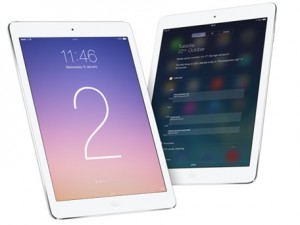 Leaked images have surfaced online, supposedly of the new iPad Air 2, which show small changes to the design. The pictures, which are claimed to be of the next generation model of the iPad, were posted on the Chinese micro blogging service Weibo and are purported to be of the rear shell part of the device, reports say that it is practically identical to a non functioning "replica" of the soon to be released iPad Air 2 that appeared in June.
The "replica", which cannot actually be a replica as the new tablet hasn't been released yet – meaning of course that this is a prototype as there is no device to replicate at the moment, has a Touch ID home button, a new style speaker grille and recessed buttons for volume control. Other reports about the images suggest that the new iPad Air 2 is thinner; also that it might have lost the mute/orientation lock toggle switch but gained larger outlets for the speakers and a microphone slot adjacent to the iSight camera. Previous reports have claimed that the upcoming model will have an improved camera, upgrading from the current 5 megapixels to 8 megapixels, it is also claimed that the device will feature a 9.7 inch retina LCD display with a resolution of 2048 x 1536 pixels. This next generation device is expected to feature a faster Apple A8 processor, which should enhance the battery life and performance of the tablet.
The iPad Air 2, which some say will be called the iPad 6, is widely expected to be launched sometime in September or October 2014, alongside the iPad Mini 3 and perhaps even the iPad Pro too – although many analysts are now not expecting the latter to be released during 2014.
If these images are to be believed and all of the rumors and speculation are anywhere near accurate, we should not expect too many changes for the new iPad Air 2, with that in mind it seems that now is a very good time to buy an original iPad Air as there are some quite good deals to be found out there. It has been reported that Best Buy were offering a very generous discount on the iPad Air of $100, this was only for the 16 GB Wi-Fi version but still an amazing deal! It should be noted that this was a time limited offer. Nevertheless, if you are not someone who absolutely must have the latest, most up to date and newly released technology, you should be able to find some really good deals.