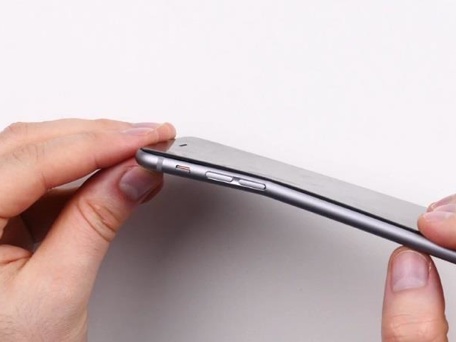 The hugely popular new Apple iPhone 6 and iPhone 6 Plus have been suffering with a few problems, but the most talked about is that some users have found their device had bent after they had carried it in their pocket without fitting a case.
Reports of bent iPhone 6 handsets are being highly publicized around the world right now, with rival companies taking advantage of the controversy and publicizing the claims via their official Twitter accounts. Apple said that only nine owners had reported bending in their iPhone Plus phones, adding that during normal use this kind of problem would be rare. The new iPhone6 and iPhone 6 Plus are much thinner than the previous models and many are blaming this factor for the bending problem, Apple insist that the outer shells of the handsets had been constructed to meet high standards of strength and the units had been thoroughly tested at every stage of construction. Apple said in a statement that "iPhone 6 and iPhone 6 Plus meet or exceed all of our high quality standards to endure everyday, real life use." Senior Vice President of Hardware Engineering at Apple, Dan Riccio, said that the iPhone 6 and the iPhone 6 Plus were the most tested iPhone models "As we add more and more features, we have to find out a way to break them before customers do." Apple stated "We chose these high-quality materials and construction very carefully for their strength and durability". Phil Schiller is Senior Vice President of Worldwide Marketing at Apple and he said "We've designed the product to be incredibly reliable throughout all your real world use. And in designing that we then have to validate heavily, and see how does it live up to real world use, and what are the forces and pressures on it, and how do you measure and prove that you've delivered on a specification". Of course Apple are keen to highlight their commitment to supporting their customers, offering replacement handsets under warranty if an assessment of the unit shows this is applicable. Apple said "With normal use a bend in iPhone is extremely rare and through our first six days of sale, a total of nine customers have contacted Apple with a bent iPhone 6 Plus. As with any Apple product, if you have questions please contact Apple."
Apple's share price fell after pictures of the bendy iPhones began to appear on the internet, there have also been many reports of people going into Apple Stores for the sole purpose of trying to bend or break iPhones and then posting video or pictures of the results. It should be noted that this would most likely be considered as an act of criminal damage.