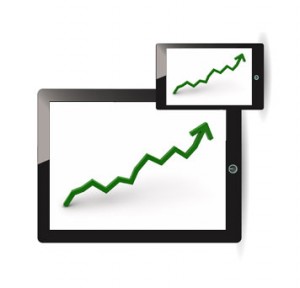 Apple is anticipated to launch at least one new product this year, with the probability of more than one product launch highly likely and many analysts are making strong recommendations for investment in the giant of technology.
With the launch of the new iPhone, possibly called the iPhone 6, expected during September or October of this year – although some rumors say that this could even be as soon as June, reports suggest that sales of the current iPhone 5 are showing signs of slowing down as buyers are playing a waiting game in anticipation of the release of the new phone. Rumors are also rife regarding a completely new product from Apple, a watch that most Apple watchers think will be called the iWatch, this will be Apple's first foray into wearable devices and it has been anticipated for some years. Another possibility is that Apple will enter the mobile payment market during this year, although it is not yet clear what their plans are in this direction. At the moment consumers are able to buy apps via their iTunes account, they can also pay for certain other products in Apple retail stores by paying with their credit card which is already tied to their iTunes account. Any future mobile payment service from Apple could possibly be an expansion on this successfully tried and tested system.
So is this really a good time to invest in Apple? Investment firm Morgan Stanley think that now is the right time and they are strongly recommending Apple stock. Chief Equity Strategist at Prime Executions, Steven Pytlar agrees, "The charts look really good in Apple" he said, "Over the past several months, we've seen a number of higher lows, what that tells us is that the basing process has likely ended. Buyers are coming back into the stock. They're accumulating it. We think it can continue to head higher."
This all seems like very promising news for Apple investors, however not all analysts are feeling quite so optimistic about the future for Apple, with some urging caution. Portfolio Manager of Washington Crossing Advisors, Chad Morganlander believes "There's a big concern that the next generation of cell phone or device won't have the 'get up and go' like the previous products", he feels Apple needs an innovative and game-changing product for the stock to climb higher.
Apple stock is up today but of course it could be down again tomorrow, this will certainly be an interesting one to watch as the year progresses and Apple launches its new products.