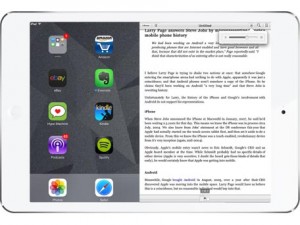 Recent reports say that Apple wishes to boost the productivity of the iPad with the introduction of a split screen support for iOS 8. After only being able to display one application on screen at a time for so many years, this new feature will allow users to simultaneously open more than one application in their iPad and work with both of them side by side. This interaction between applications may also allow users to drag and drop text, images and videos from one side to the other, which would be a much more convenient way of doing things. Rumor has it that this new feature is only going to be possible in landscape mode and that it will not work on the iPad Mini, only the larger iPad Air, other suggestions are that it will only work on the bigger iPad that has been much talked about and anticipated for so long by Apple watchers.
Many analysts are expecting iOS 8 to be launched at the World Wide developers Conference (WWDC) which begins 2nd June 2014, so we will not have to wait too long to know one way or the other. Not everyone feels that split screen multitasking will be introduced at the World Wide Developers Conference, Brian X Chen is a technology writer for The New York Times and he tweeted the following "I've been told that the split-screen feature for iOS 8 isn't ready yet and won't be shown at WWDC. Still a work in progress."  Maybe we will have to wait for iOS 8.1 before we see split screen multitasking.
Of course this is all rumor and speculation, as usual Apple have confirmed nothing, nor denied anything so we will all have to wait and see.