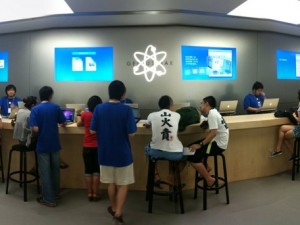 Apple has become the latest technology company from the United States to be targeted by the Chinese government with ten products excluded from a recent procurement list.
The move follows the exclusion of a raft of other products from the United States amid escalating tension between China and the US over accusations of cyber spying and hacking. It was reported some months ago that China intended to retaliate for the indictments of five Chinese military officers by United States prosecutors and that it would begin to vet any technology company that operated in the country. Relations between the United States and China were already strained following Edward Snowden's revelations of a National Security Agency spying program last year and Chinese government officials say the government has taken the step because of concerns over national security.
The ten Apple products excluded from the procurement list include the iPad, iPad Mini, MacBook Air and MacBook Pro and it means that these products can no longer be purchased with Chinese public funds, nor can they be used in any government office or institution. Hong Kong analyst, Mark Po, is reported to have said "When the government stops the procurement of products, it sends a signal to corporates and semi-government bodies; The Chinese government wants to make sure that overseas companies shouldn't have too much influence in China." State owned television in China reported last month that the tracking software in the Apple iPhone could result in the leaking of state secrets, a claim that Apple rejected.
This tougher new stance from China comes after its procurement agency also barred Microsoft with the official Xinhua News Agency describing it as "a move to ensure computer security", an anti-monopoly investigation into Microsoft was opened and several Microsoft offices have also been raided in recent months. Antivirus software from Symantec and Kaspersky is also excluded. Lenovo, Hewlett Packard and Dell products remain on procurement lists and Lenovo shares rose by 1.7 per cent in Hong Kong trading.
This will be quite a blow for Apple, Bloomberg figures show that the Chinese market earned approximately 16 per cent of its $37.4 billion revenue in last quarter. Year over year sales of the iPad rose 51 per cent, Mac sales rose 39 per cent and iPhone sales increased by 48 per cent according to Tim Cook, Apple Chief Executive Officer, in July.
There has been no comment from Apple so far about this latest move by China.
Special Thanks Wesley Fryer For Providing The Image.