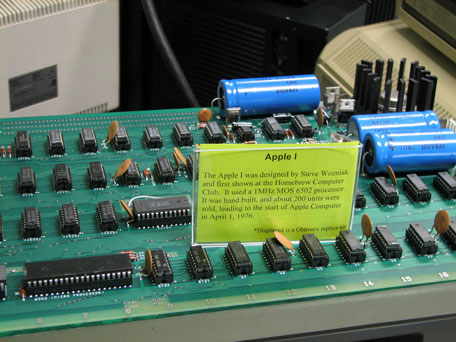 An Apple-1 computer built by Steve Wozniak has sold at auction for a staggering $905,000! There are not many examples of the first pre-assembled computer from Apple surviving today so the Apple-1 has become a rare and highly sought after collector's item. This Apple-1 computer was particularly special as it was one of the first fifty ever built by Steve Wozniak in the garage at Steve Job's Los Altos family home during the summer of 1976. The auction house that handled the sale was Bonham's in New York and it was the first sale of science and technology memorabilia, the winning bid of $905,000 went far beyond the sale price that Bonham's had predicted, the auction house had only expected the computer to sell for between $300,000 and $500,000. Christina Geiger is the Director of the fine books and manuscripts department at Bonham's in New York and she said "It is a great privilege to be selling this Apple-1 at auction. It has exceptional provenance and condition." Ms Geiger added "Moreover, it will be the first Apple-1 to be publicly exhibited for auction in the Bay Area. It is very gratifying to think of this computer returning to within 40 miles of its birthplace."
This Apple-1 computer had been acquired in 1980 by John Anderson, the founder of the Cincinnati AppleSiders, an Apple user group whose website states that they provide "ongoing support for people who enjoy using their computers". The machine had been kept under glass since 1989 to preserve it, happily this proved to be a success as it was booted up again in August 2014 by Apple-1 expert, Corey Cohen who said "This is one of the best examples of a working early Apple-1 board that I have seen. The condition is unlike the other Apple-1 computers that have come up for sale before. This one has had no modifications ever performed or removed; even the screws on the power regulators aren't heat cycled." The Apple-1 was sold with John Anderson's original keyboard, Sanyo monitor and power supply, the lot also included Cincinnati AppleSiders memorabilia and a video recording of the keynote speech at the 1980 "Applevention" by Steve Wozniak.
The Henry Ford organization is to display the machine in its Dearborn museum, Michigan. A news statement from the Curator of communication and Information Technology at The Henry Ford, Kristen Gallerneaux, said "The opportunity to acquire an Apple-1 is a rare one, given their low production numbers" while The Henry Ford President, Patricia Mooradian, said "The Apple-1 was not only innovative, but it is a key artefact in the foundation of the digital revolution".
Special Thanks Dan Century for providing the image